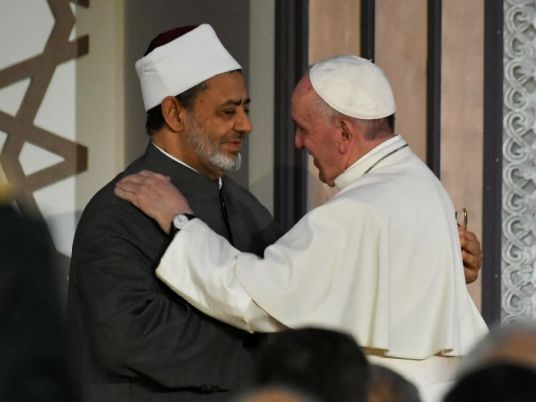 "The Pope and the Grand Imam: A Thorny Path – A Testimony to the Birth of Human Fraternity" was recently published in Arabic and English by Egyptian Judge Mohamed Abdelsalam, Secretary-General of the Higher Committee of Human Fraternity (HCHF).
The book recounts the history of the creation of the Human Fraternity Document for World Peace and Living together, also known as the Abu Dhabi declaration or Abu Dhabi agreement, which was signed by Pope Francis and Sheikh Ahmed el-Tayeb of al-Azhar.
The document was signed on February 4th, 2019 and soon after, the Higher Committee of Human Fraternity (HCHF) was established.
Abdelsalam presents the bold steps taken by the Pope and the Grand Imam in promoting mutual understanding and interfaith dialogue.
This unique relationship, the author writes, began with visits by each figure to the other's headquarters. Soon after, the two developed a deep fraternal bond and held several meetings in hopes of finding common ground.
The book contains an in-depth, first-hand account of the preparations leading to the signing of the HFD. It also highlights the efforts of the patron of the HFD, Sheikh Mohammed bin Zayed Al Nahyan, Crown Prince of Abu Dhabi and Deputy Supreme Commander of the UAE Armed Forces, in facilitating the document's translation.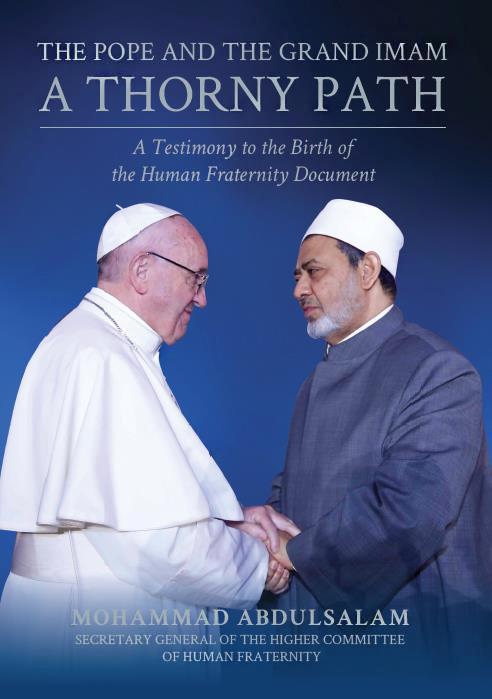 Cover to the book The Pope and the Grand Imam: A Thorny Path

Furthermore, the book sheds light on the pivotal role of the Muslim Council of Elders (MCE) in supporting dialogue between the two sides.
The author concludes his book by highlighting the ongoing work that seeks to support and actualize the principles enshrined in the HFD.
The book features two forewords: one from Sheikh Ahmed el-Tayeb and one by Pope Francis.
In his forward, the Grand Imam describes the book as a work of art, written in a very beautiful and accurate style, and not full of a high-flown intellectualism, flights of fantasy or partiality, or even rigidity.
For his part, Pope Francis certifies that the book contains the significant moments leading up to the signing of the document.
The author previously served as a special advisor to al-Tayeb for more than eight years, during which he promoted interfaith dialogue and connected different religious institutions.
Abdelsalam said that he was committed to documenting the significant moments throughout the human fraternity journey, saying that the readers should know the circumstances and challenges around the document's creation.
The book's title, "A Thorny Path", points to the courage shown by both religious figures that allowed them to persist and overcome any and all challenges, according to the author.
The book is dedicated to Egypt, as the author says that his homeland has bestowed upon him numerous favors and served as a role model for coexistence and peace.
____
Pictured: Pope Francis and Sheikh Ahmed al-Tayeb