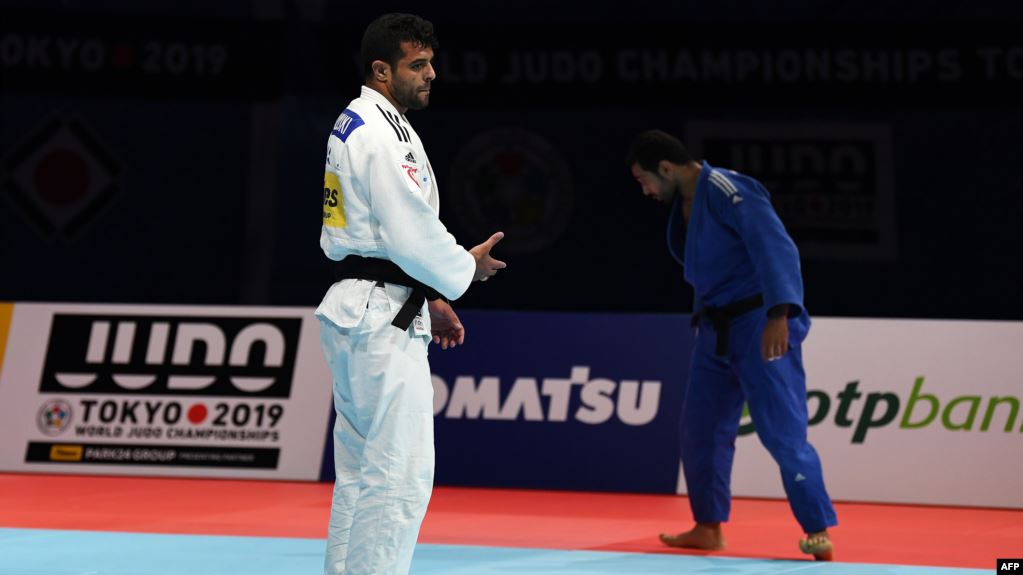 The Israeli Ministry of Foreign Affairs published on its Twitter page that the Egyptian judoka (an expert in or practitioner of judo) Mohamed Abdelaal refused to shake hands with the Israeli judoka Sagi Moki after he defeated Abdelaal in the semi-finals of the World Judo Championship 2019 in Japan, said the US Cable News Network (CNN) on Wednesday.
The ministry added, "Sagi wanted to shake hands with Mohamed, who showed no sports spirit and refused to shake hands, despite that sports is the language of rapprochement between people."
A video showed Abdelaal turning his back to avoid shaking hands with the Moki following the end of the game.
Mohamed Abdelaal was born July 1990. He competed at the 2016 Summer Olympics in the men's 81 kg event. He was eliminated from the competition upon losing to Russian judoka Khasan Khalmurzaev during the third round.
Israel and Egypt made a peace agreement in 1979 known as the Camp David accords signed by the late Egyptian President Anwar Sadat and the late Israeli Prime Minister Menachem Begin under the auspices of United States.
The two countries opened a diplomatic mission in Cairo and Tel Aviv to ease their relationship. The mission has witnessed high-level cooperation in all fields since the 1973 war.
بالفيديو: لاعب الجودو الإسرائيلي ساجي موكي تغلب على اللاعب المصري محمد عبد العال في نصف نهائيات بطولة العالم. ساجي أراد أن يصافح محمد في ختام المباراة إلا أن الأخير هرب من البساط.

هناك سلام بين البلدين. رفض المصافحة من قبل المصري ليس إلا إساءة لسمعة مصر في الرياضة العالمية. pic.twitter.com/6H46bGOCLu

— Ofir Gendelman (@ofirgendelman) August 28, 2019