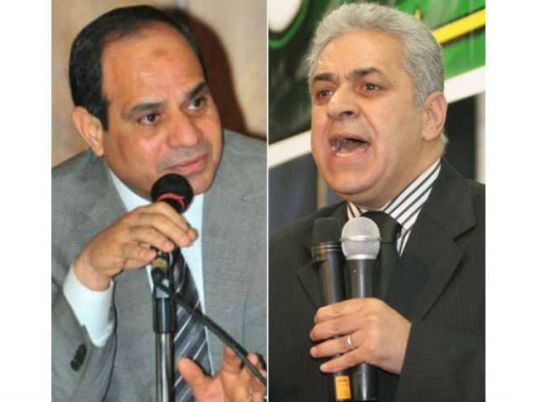 A prominent opponent of President Abdel Fattah al-Sisi said Egypt's fragmented pro-democracy opposition parties had "failed" the country and he vowed to forge a new movement able to provide a genuine alternative to the current government.
Hamdeen Sabbahi, like many other leftists and nationalists, backed Sisi's 2013 overthrow of Egypt's first democratically elected president, Mohamed Morsi of the Muslim Brotherhood, and the subsequent ban on the group.
Sabbahi then became the only candidate to run against Sisi in the 2014 presidential election but won only 3 percent of the vote. He has since criticised Sisi's crackdown on democratic freedoms including the right to protest.
Sabbahi told Reuters in an interview this week that Egypt's non-Islamist opposition groupings needed to bury their differences and forge a new united force that could offer a more democratic alternative to Sisi's government.
"We failed the Egyptian people. We were unable to form a serious organized body to represent them," he said, lamenting the lack of democracy and civic freedoms in Egypt five years after a 2011 uprising ended the 30-year rule of Hosni Mubarak.
"Egypt needs alternatives. When Egyptians realise that five years after the revolution the answers they are offered are the same ones they have always been offered then our job isn't just to point that out but to provide alternatives."
This week the centre-left Popular Current and some independent politicians merged with the Arab Nationalist Karama Party founded by Sabbahi in a revived push to attract ordinary Egyptians disenchanted with Sisi's economic policies and crackdown on freedoms.
Resentment
Sisi, who initially enjoyed strong support from Egyptians opposed to the Muslim Brotherhood, has seen his popularity begin to wane in recent months as the economy teeters on the verge of crisis and resentment builds over a series of police abuses.
Sabbahi said the political environment was not conducive to organised protests or strikes, though he added this might change. The movement is considering running in local elections as a first step.
Several leftist and liberal parties initially planned to run in Egypt's parliamentary election late last year, but most dropped out as alliances crumbled and under-funded parties imploded. The result is a parliament dominated by Sisi supporters, Mubarak-era faces and big business.
Many opposition groups and activists snubbed the parliamentary poll, calling it a sham.
Sabbahi himself has lost credibility among both loyalist and opposition Egyptians since he ran against Sisi. Dissidents said his candidacy gave political legitimacy to the poll, while Sisi supporters scorned what they saw as his failed act of defiance.
Sabbahi said the new initiative, which has come under fierce attack from both sides, was not aimed at removing Sisi.
"The core of what we are offering is alternatives to how Egypt is governed, not who governs Egypt," he said.