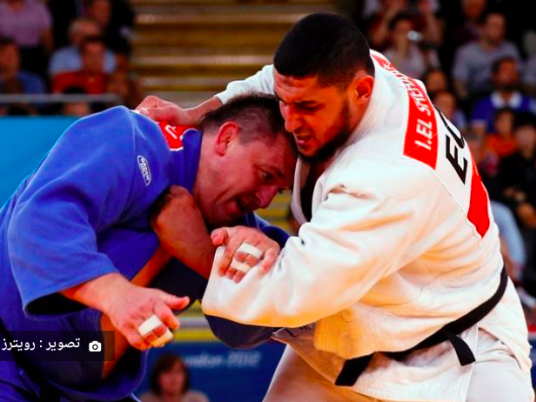 Egyptian judo player Islam El-Shehaby lost by a decisive ippon throw to Or Sasson of Israel in the first round of men's over-100kg event on Friday.
Shehaby's loss was compounded by a fresh controversry after he apparently declined to shake hands with his competitor at the end of the contest.
The match between the two men has been surrounded by controversy in the past weeks, with much debate on social media platforms as to the politics of competing with an Israeli in the Olympics.
It was rumored that the Egyptian judoka had withdrawn from the match for political reasons, a rumour later denied by official of the Egyptian National Olympic committee. Shehaby rejected the idea of withdrawing, saying he does not think of the nationality of his opponent, but rather focuses on winning.
The Egyptian martial artist added that he has no problem with Friday's match against an Israeli opponent and that the man's nationality makes no difference to him.
However, new rumours emerged a few days ago, suggesting that Shehaby planned not to shake his Israeli counterpart's hand at the end of the fight, which is common civility during sporting encounters.
This time, the rumours proved to be true, and at the end of Friday's match, Shehaby refused to shake hands with Sasson, ignoring the latter's outstretched arm.
The Minister of Youth and Sports, Khaled Abdel Aziz, said that Egypt is committed to the Olympic Charter and its fundamental prinicples.
"Since we accepted to play under the Olympics (terms), we must accept the competition with everyone regardless of anything," Abdel Aziz said before the match.
"The Olympic charter does not accept withdrawal, and we would be subjected to sanctions if we do so," the minister added, ruling out the option of dipping out of the match.
The 34-year-old Egyptian athlete has won 16 gold, 15 silver, and 19 bronze medals during his career, ranking highly in world and Arab championships. His most recent wins were at the Grand Prix Düsseldorf in Germany and the African championship of Judoka in Tunisia.
Sasson, 25, has won 12 gold, five silver, and 11 bronze medals during his nine-year-old athletic journey. He recently participated in the Grand Prix Guadalajara in Mexico, the Grand Prix Tbilisi in Georgia , and the European championship in Kazan. He represented Israel in the over-100 kg for the first time in Friday's match.