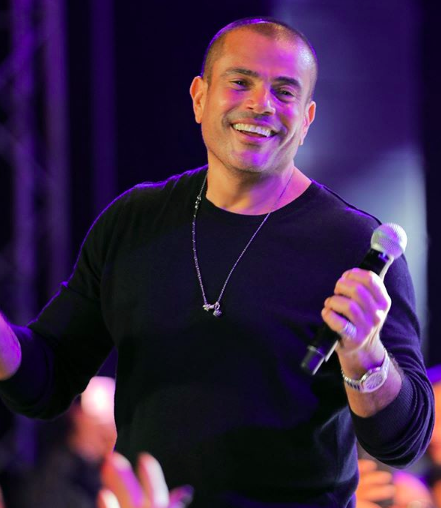 Egyptian megastar Amr Diab released on Wednesday a new album titled "Sahran", according to his official website.
The album includes 12 songs appealing to the different tastes of Diab's many fans.
Famous music composers like Nader Hamdy, Osama al-Hindy, Tarik Madkour and Ramy Samir all had a role in writing and arranging the tracks on the album, with poet Shady Nour and composer Bilal Srour also taking part.
"Sahran" also features Diab's daughter, for the first time, singing in English a part of the song "Gamela we bas," which was written by Shady Nour and composed by Bilal Srour and Jana.
Diab has built a multi-decade career that began with his musical debut in 1983. He is now known as one of the most famous pop stars of Egypt and the Middle East and has been nicknamed "al-Hadaba" (the Plateau) as a reference to his greatness.
His musical style is referred to as "Mediterranean music," which features a blend of Western and Egyptian rhythms.
"Finally, after a long wait, Amr Diab's latest album "Sahran" is released exclusively by Nay for Media company," Diab announced on Facebook.
Meanwhile, Diab is set to celebrate the album's release at a concert in New Cairo's Al-Manara International Conference Center on Friday, February 28.
Over the past three and a half decades, Diab has successfully remained one of Egypt's and the Middle East's most acclaimed international stars, winning numerous awards.
The Egyptian pop star is the first in the Arab world to produce high tech music videos, and in 1996, Diab released the album "Nour El Ain," which was celebrated worldwide and helped to gain the pop star recognition beyond the Middle East.
In 2009, Diab won four African Music Awards for Song of the Year, Artist of the Year, Video of the Year, and Best Male Act. He won two additional African Music Awards in 2010.
He is also the only Middle Eastern artist to have received seven World Music Awards, and set the Guinness Record for winning Best Selling Middle East Artist the most times.
Photo credit: Amr Diab's official Instagram account.