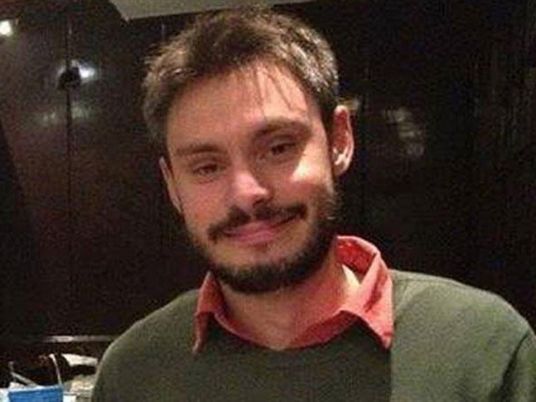 Egyptian Minister of Manpower Mohamed Saafan asserted on Sunday that Italian university student Giulio Regeni's murder had nothing to do with his investigation of trade unions and is a criminal matter, further stressing that investigations into his death are still on-going.
Saafan statement's came at the 108th session of the International Labor Conference, currently held at the UN's Palais des Nations and the International Labor Organization (ILO) in Geneva, continuing until June 21.
The minister added that work in the Regeni case is being served by the Egyptian Public Prosecutor's Office with the Italian Public Prosecution.
He stressed that the Regeni case is akin to murder in any other country, such as as if an Egyptian had been killed in Italy.
Regeni, a 28-year-old Italian University of Cambridge PhD student, had been conducting field research in Cairo regarding the independent trade unions in Egypt when he disappeared January 24, 2016 in central Cairo, amid a high presence of police in the area who were anticipating protests.
Egyptian and Italy officials held several meetings over the circumstances of Regeni's murder. The most recent of which was between Egyptian President Abdel Fattah al-Sisi and Italian parliament speaker Roberto Fico in September.
The Egyptian president stressed Egypt's keenness to uncover the truth and the Egyptian authorities' commitment to maintaining full transparency with Italy.
In November, Fico said the House would halt all diplomatic relations with the Egyptian parliament until there is a breakthrough and trial in Regeni's case.
Regeni's body was found mutilated, bearing signs of torture, on a desert roadside on February 6, 2016.
Initially, Egyptian police officials suggested Regeni died in a road accident. However, an Italian autopsy showed that Regeni's body was covered with cuts, and his bones were broken, indicating that he had been beaten with "fists, batons and hammers."
Egypt has emphatically denied that its police were involved in his abduction, torture, or death.
The Regeni case has strained ties between Egypt and Italy, which recalled its ambassador over the case. Relations were restored in August 2017 when Rome said it would return its ambassador to Cairo and continue the search for Regeni's killers.
Edited translation from Al-Masry Al-Youm