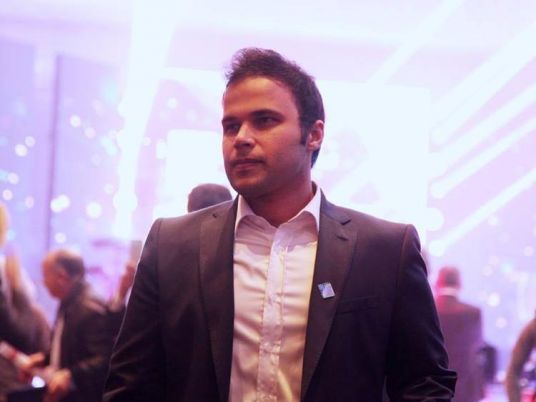 Egyptian oncologist Yehia Abugabal was selected by Forbes magazine to be on the annual "30 under 30" list that recognizes the world's top achievers in health care under the age of 30.
The 28-year-old oncologist is the co-founder of the the Cairo-based International Cancer Research Center (ICRC), which works to curtail the spread of cancer in the Middle East. The research center, with the help of many researchers in a variety of specialties, raises cancer awareness and works to lengthen patients' survival across the Middle East.
Abugabal is the only Egyptian and Arab winner in the health care list this year. The "30 under 30" Forbes list includes 600 remarkable people, spread out to 30 people each in 20 categories, including food and drink, social entrepreneurs, law and policy, science, marketing and advertising, energy and media.
Since his childhood years, Abugabal's dream was to be a doctor like his parents. He started studying medicine at the University of Ain Shams and became passionate about the cancer awareness field as it is a leading cause for death in the world. He co-founded the ICRC after graduation.
"I'm very proud to be selected by Forbes, especially since the ranking was not based on self-recommendation and it was Forbes' choice," Abugabal told Egypt Independent.
Abugabal said that the ICRC has launched numerous campaigns in Egypt to raise awareness of cancer. The center kicked off a collaboration with the National Institute of Health in the United States to give training to oncology juniors to produce skilled physicians and increase the center's efficiency.
According to the World Health Organization (WHO), cancer is one of the top causes of mortality in the world. In 2012, there were approximately 14 million new cases and 8.2 million deaths related to cancer.
WHO said that cancer rates are expected to increase by about 70 percent over the next two decades.
The Egyptian Health Ministry announced in February that cancer rates in Egypt have jumped by 34 percent since 2013, according to MENA.
In 2014, Egyptian neurosurgeon Mohamed Zaazoue was rated one of the world's top social entrepreneurs in Forbes' "30 under 30" list. Zaazoue launched a massive public health educational campaign to fight certain diseases, including pneumonia, the number-one killer of children under the age of five.
He is the founder of a non-profit organization called Healthy Egyptians, which aims to introduce preventive healthcare measures to the very young.