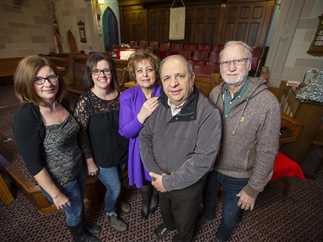 An Egyptian immigrant pharmacist in Canada rescued the 131-year-old Huron County Church from closure due to bankruptcy and lack of resources, according to a report published by CTV NEWS LONDON website.
The Egyptian pharmacist, Michael Haddad, bought the church in Ontario, Canada, for $250,000; however, the final contract still awaits the approval of the United Church of Canada.
The website revealed that the church's trustees agreed to sell it to Haddad and transfer its ownership to him and his wife.
According to the contract, Haddad's son will inherit the church after his parents' death. After the son's death, the church will given back to the people of the church.
Haddad bought the church for two reasons, he said. First, out of religious duty as a Christian to keep the church open for worshipers. Second, since most of the population of Hensall city where the church is located are elderly people who do not have an alternative church nearby and would have to drive for a long distance to another church.
The news of the purchase of the church was a miracle for the town's inhabitants, who consider the church more than just a place of worship. According to the website, the church serves as a social club and provides assistance to the unemployed and homeless people. It also provides car maintenance and sells agricultural equipment and handicrafts.
Edited translation from Al-Masry Al-Youm