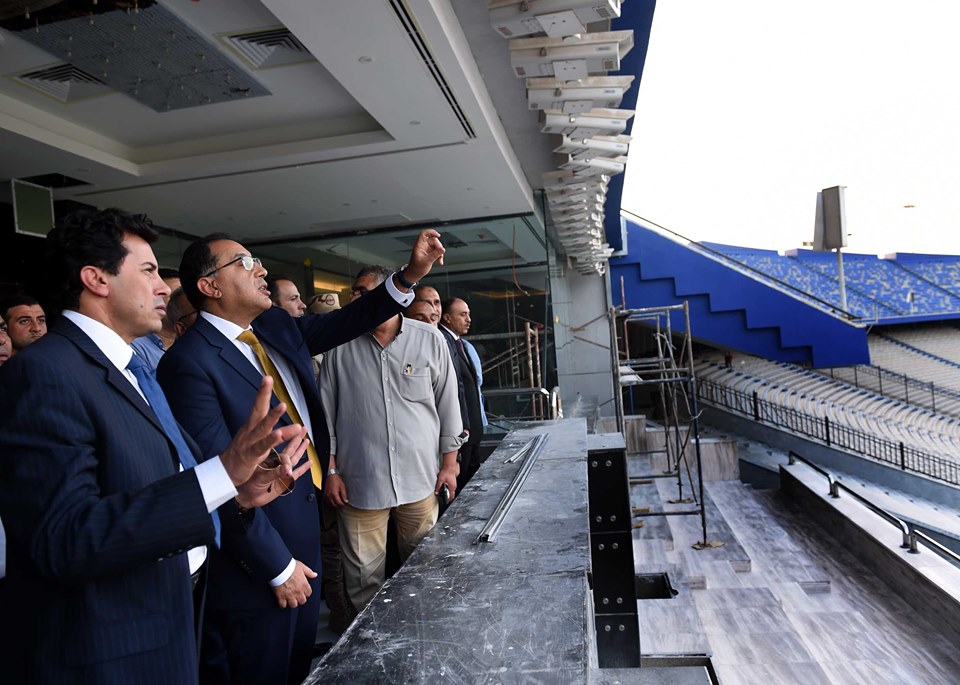 Egyptian Prime Minister Mostafa Madbouly and Minister of Youth and Sports Ashraf Sobhi on Friday inspected the preparations and development of the Cairo Stadium hosting the African Cup of Nations, set to be held in Egypt on June 21.
Madbouly and his entourage toured several components of the stadium, starting with the main cabin, where development has been completed, and the stadium pitch.
Sobhi explained that the roads surrounding the Cairo Stadium area have been also developed. A road linking al-Fangari Street and Yusuf Abbas Street will be established to facilitate traffic and access to the stadium.
According to Sobhi, new spaces have been added within the stadium to be used for reception and hospitality as well as new changing rooms, fulfilling the African Union's requirements at the stadium.
The Minister said that development of the stadium pitch has been completed, with continued follow-up until the launch of the tournament. He pointed out that the numbering of seats, screens, maintenance of the main screen and development of the entrance to the main cabin are underway.
Sobhi added that checking on the electronic gate networks, the completion of lighting efficiency improvement, and the development of the Wi-Fi network within the stadium and the media area are also in-progress.
Madbouly stressed the need to complete all work with the highest efficiency and at the specified timings to ensure the Cairo Stadium becomes a civilized interface for the championship.
Edited translation from Al-Masry Al-Youm