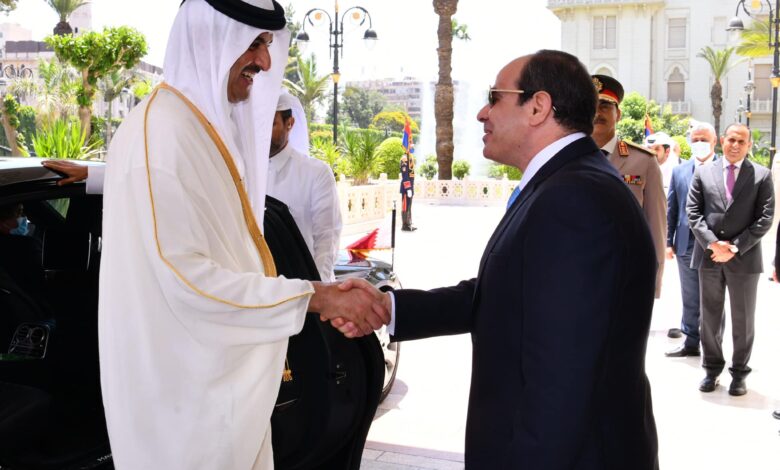 Egyptian President Abdel Fattah al-Sisi received on Tuesday a phone call from the Emir of the State of Qatar, Tamim bin Hamad Al Thani, to exchange views on the developments of some regional issues, within the framework of concerted Arab efforts to confront regional challenges.
President Sisi stressed the close ties between the two countries and the two brotherly peoples, within the framework of Arab solidarity and belief in the unity of destiny, as it was agreed to continue building on the momentum witnessed at the present time by the frameworks of bilateral cooperation between the two countries.
The two leaders also agreed on promoting mechanisms of mutual consultation and coordination on all issues and successive developments in the framework of safeguarding Arab national security.
The Emir of the State of Qatar expressed deep appreciation for the tireless Egyptian efforts on the Arab arena, led by President Sisi, to consolidate regional peace and security, the latest of which was the success of the Egyptian mediation to reach a quick cease-fire between the Palestinian and Israeli sides and restore calm to the Gaza Strip.
During the call, some topics were discussed within the framework of bilateral cooperation relations, as the Emir of Qatar valued the brotherly relations between the two countries, expressing his country's keenness to strengthen existing cooperation frameworks and open new horizons for cooperation.
Emir of the State of Qatar made a two-day official visit to Egypt in June, his first in seven years.
Egypt and Qatar agreed to resume diplomatic relations in January 2021.
The agreements come after nearly four years of a row between Qatar and Egypt, Saudi Arabia, Bahrain, and the UAE over Qatar's alleged terrorism sponsorship and its close relations with Iran.
Saudi Arabia, the United Arab Emirates, Oman, Kuwait, Bahrain, and Qatar signed an agreement during the Gulf Cooperation Council (GCC)'s summit meeting in al-Ula for reconciliation.
Egypt and the other three countries involved in the dispute agreed to restore ties with Qatar immediately after the summit. The dispute included a trade and travel embargo against Qatar by the Arab quartet, which has now been lifted.
Relations between Egypt and Qatar became tense after the overthrow of the late President Mohamed Morsi and the Muslim Brotherhood in 2013. Egypt joined Saudi Arabia, the UAE, and Bahrain in cutting ties with Qatar on June 5, 2017.
Qatar has been mending its relations with the countries since they all signed the Al-Ula agreement on January 5, 2021.
The foreign ministers of Qatar and Egypt have recently exchanged official visits to Cairo and Doha, and the Emir of Qatar, Sheikh Tamim bin Hamad, and Egyptian President Abdel Fattah Al-Sisi exchanged visiting invitations, amid continuing talks to improve relations.