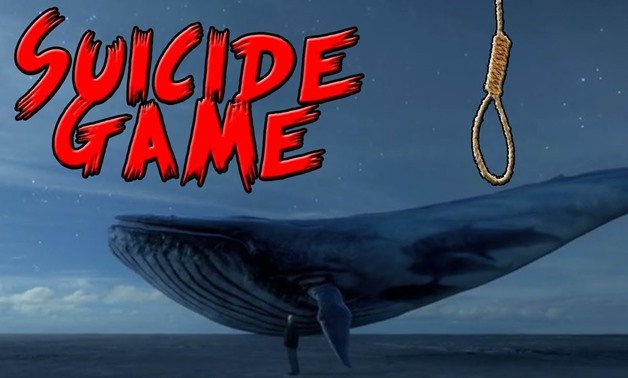 A 15-year-old schoolgirl in Alexandria attempted to commit suicide with a toxic substance to fulfil a challenge of the deadly 'Blue Whale' video game.
The Alexandria prosecutor received a notification from Karamouz Police Station that a female student in the preparatory stage was sent to General Hospital with severe fatigue, before she was transferred to the department of toxicology at the main hospital.
During the girl's examination the physician found strange marks resembling a tattoo on the student's left leg and when the student woke up she told the doctor that she was playing the Blue Whale game, and that a part of its challenges were to make a tattoo on her left leg and to take an insecticide.
The father of the girl said that his daughter might have taken a rodenticide after a verbal quarrel with her mother because she came home late and received low grades at school.
During official investigations, the girl denied what the doctor said and supported her father's statement. The prosecution was notified to investigate and the Department of Criminal Investigation was assigned to investigate the incident.
The student's incidents is not the first of its kind in Egypt, as the son of former MP Hamdy al-Fakhrany was found hung at his home on April 2, a suicide which had been linked to the deadly Blue Whale game. In January, a 32-year-old mentally-ill man killed his father to fulfil one of the challenges of the game.
Amid the increase of the game's victims MP Sherif al-Wardani, who is also the secretary of the Parliamentary Human Rights Committee, submitted an urgent request calling upon the Minister of Communications and Information Technology to take action against the recent spread of "dangerous electronic games."
Meanwhile, Egypt's religious and governmental body Dar Al-Iftaa posted a YouTube video on their official page declaring the Blue Whale video game as forbidden in Islam by saying that it has many elements that make it religiously forbidden.
The Blue Whale, also known as 'A Silent House', 'A Sea of Whales', and 'Wake me up at 4:20am' was created by Russian Philipp Budeikin, and it targets mainly vulnerable teenagers by assigning them to do commit tasks set out by administrators over a 50-day period, with the final challenge asking the player to commit suicide.
The game starts with simple tasks in the beginning, and then gradually it asks the user to self-harm. At the end of the period, the user is asked to kill himself or a member of their family.
Since the release of the app, hundreds of cases of suicide were reported across the world, all linked in some way to the game.
Budeikin was arrested in 2017, accused of inciting at least 16 schoolgirls to commit suicide by taking part in the game. The 21-year-old, who studied psychology, confessed to the crimes saying that he considers his victims as "biological waste" who were "happy to die," and said that he was "cleansing society."