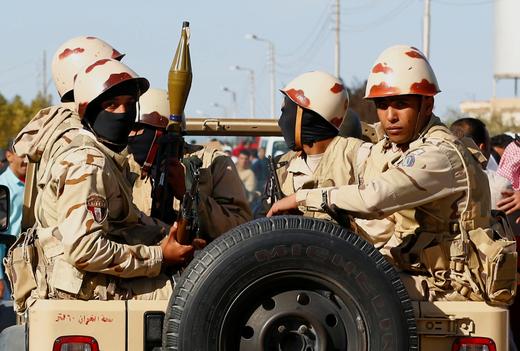 Egypt's Interior Ministry said on Saturday that Egyptian police forces killed 21 militants in two shootouts in North Sinai.
The ministry announced in a statement that the militants were planning to carry out terrorist attacks during the Eid al-Fitr holiday.
The statement said that the forces simultaneously raided two locations, where they found 17 automatic weapons, five explosive devices, two explosive belts, and a radio device.
Security forces and the militants exchanged fire at both locations, leading to the deaths of the 21 militants and the injury of two police officers, according to the statement.
The statement added that the Interior Ministry is continuing to track down militant extremist groups seeking to carry out attacks in Egypt and abroad.
Police filed a report on the militants' deaths and referred the matter to the Supreme State Security Prosecution for further investigation.
The Egyptian military has for years been waging a bloody insurgency against Islamist militants in Egypt. Violence escalated in 2013, following the ouster of President Mohamed Morsi by the army.
Scores of Egyptian security personnel have been killed in attacks, primarily by militants from a local affiliate of the Islamic State group.
In 2018, Egyptian security forces launched a nationwide operation targeting militants, focusing on the restive North Sinai region.
According to army data, at least 845 suspected militants have been killed in the region along with more than 60 security personnel.
Edited translation from Al-Masry Al-Youm
Image: In this file photo, military forces look on in North Sinai, Egypt, December 1, 2017. (REUTERS/Mohamed Abd El Ghany)