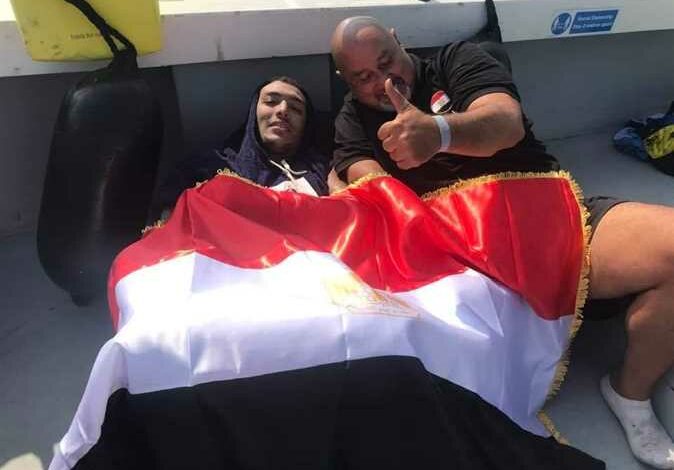 Egyptian swimmer Ahmed Osama set a record for crossing the English Channel, swimming 65 kilometers continuously in 14 hours until reaching the French shore.
Osama was accompanied in this achievement by fellow Egyptian swimmer Khaled Shalaby and the Under-Secretary of the English Federation for crossing the Channel and Olympic swimmer Sherwite Hafez, under the auspices of the Ministry of Youth and Sports.
Shalaby said that the attempt was preceded by intense training for the swimmer to face the cold water currents.
He added that Osama endured currents and tides during the transit trip, showcasing that he is able to prove himself and achieve his dream.
Osama's crossing of the English Channel is the result of a long effort and many challenges, all make his country proud.
Osama crossed from the port of Dover in Britain to the port of Calais in France and despite the long distance, he said the difficulty of this crossing lies in the weather conditions, which are concentrated in wind speed and wave height.
The English Channel is one of the most difficult seas in the world because there are difficult water currents that are affected constantly and suddenly with the changing weather, he added.
He continued, "Thank God, we overcame these difficulties. Swimming lasted for about 13 hours and about 59 minutes continuously without stopping."
Osama joined the swimming training camp to develop performance and skills in the open water swimming in Hurghada, to prepare for crossing the English Channel 2022, under the auspices of the Ministry of Youth and Sports.
Shalaby said that the training camp is open to attract swimmers from Egypt and various countries to train and qualify them to cross the English Channel, and aims to make Egypt and Hurghada a distinguished destination for sports tourism.