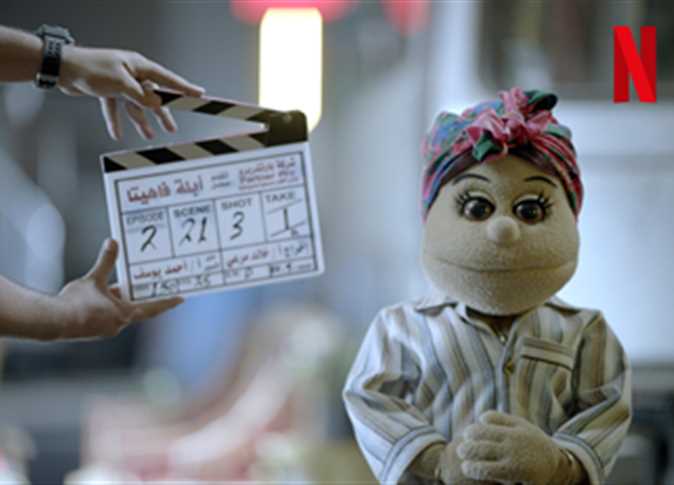 Abla Fahita, an Egyptian puppet character renowned for her sarcastic wit is set to return in the upcoming Netflix series "Drama Queen", slated to release in the first half of 2021.
The show is being produced by OKWRD Productions in cooperation with ASAP Productions and executive producer Amin al-Masry.
Bassem Samra, Donia Maher and Osama Abdullah are set to participate in the first season of Drama Queen.
The series is directed by Khaled Marei and written by Abla Fahita with the participation of Mohamed al-Gamal, George Azmy, Dina Maher, Sarah Murad, and Mahmoud Ezzat.
The series, Abla Fahita's first ever drama, shows the puppet's more human side in an action-packed comedy adventure.
Fahita finds herself outlawed, forced to separate from her two children, Karo and Boody.  With everything at stake, the diminutive starlet will not hesitate to do what it takes to reunite her family.
Filming for the first season of Drama Queen started early August in various locations in Cairo, with all coronavirus precautions in place. Filming concluded in the first half of October.
The Fahita puppet character made her debut on Youtube, where she introduced her puppet "family" in a series of comedic videos that went viral on social media platforms at the time.
Later in 2014, Fahita solidified her media career after launching a TV Show on CBC Channel called "Abla Fahita live from the Duplex." The show centered on Fahita as she interviewed various celebrities, including Hany Shaker, Mahmoud al-Eissely, Fifi Abdou, Hala Sarhan, Dhafer L'Abidine, Hamada Hellal, and Rania Youssef, among others.
The show was known for its dark humor and biting sarcasm, with Fahita commenting on various topics in Egypt – occasionally getting the puppet into hot water.
Fahita is also known for collaborating with prominent Egypt composer Hassann al-Shfei, who was featured with her in a video clip that went viral on various social media platforms and garnered more than 21 million views on YouTube.
Fahita's debut on Netflix will be the second Egyptian series to be broadcasted on the streaming giant.
In May 2019, Netflix announced it was collaborating with famed Egyptian producer Mohamed Hefzy and director Amr Salama on an adaptation of late legendary writer Ahmed Khaled Tawfik's Paranormal series of novels.