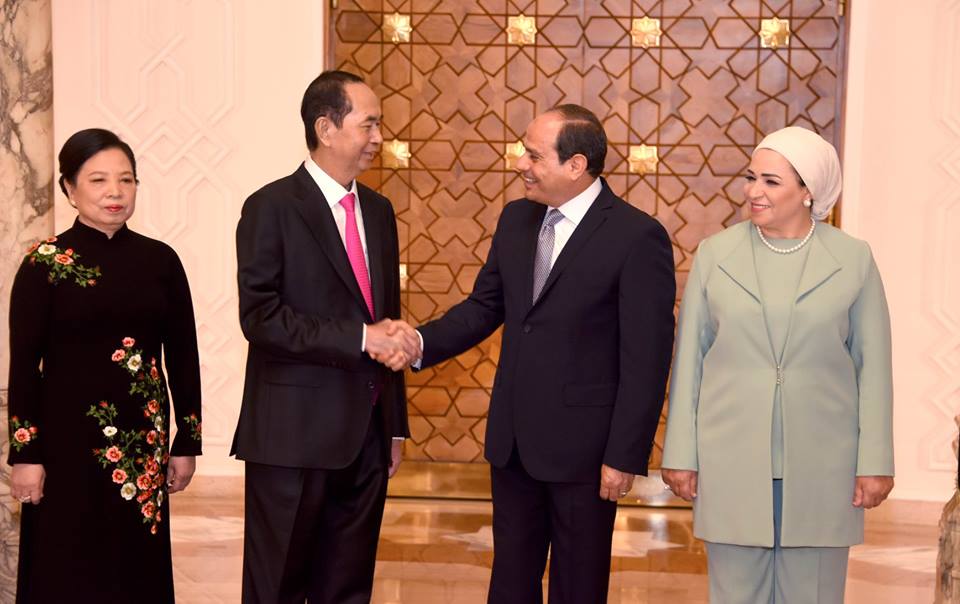 Egyptian President Abdel Fattah al-Sisi held a meeting on Monday with his Vietnamese counterpart Tran Dae Kwang at the Ittahadeya Presidential Palace, during which they discussed enhancing bilateral relations between the two countries.
The presidents held a closed bilateral talks session followed by another extended session, during which the ministers of Foreign Affairs, Investment, Petroleum, Higher Education, Planning, Finance, Agriculture, and Trade and Industry participated.
A joint press conference for the two presidents then followed the meetings.
"Your generous visit to Egypt is of particular importance in view of the fact that it is the first visit of a Vietnamese president to Egypt since the establishment of diplomatic relations between the two countries 55 years ago, and comes after the first visit for an Egyptian president to Hanoi which I made in September," Sisi said during the press conference.
"We held fruitful discussions on how to strengthen bilateral relations at all levels as well as cooperation for international institutions, and reviewed international and regional issues of mutual concern. The talks discussed the strengthening of political, economic, military and security relations and means of combating terrorism, opening up Vietnamese markets to Egyptian exports and boosting tourism and cultural exchanges between the two countries," he continued.
The Vietnamese president thanked President al-Sisi for the warm welcome, adding that the talks were successful and it was agreed to enhance relations in various fields between the two countries such as politics, economy, culture and tourism.
The two sides signed seven memorandums of understanding, including a memorandum of understanding between the Egyptian Diplomatic Institute and the Vietnamese counterpart, and another between the Egyptian Ministry of Investment and International Cooperation and the Vietnamese Ministry of Finance for investment cooperation.
The two presidents also saw the signing of a memorandum of understanding to strengthen cooperation in oil, gas, petrochemicals and technology transfer, and a fourth cooperation in rice trade, in addition to a memorandum of understanding for cooperation in agriculture.
Lastly, a memorandum of understanding for cooperation in export promotion and another for cooperation in trade remedies were both signed.
Edited translation from Al-Masry Al-Youm