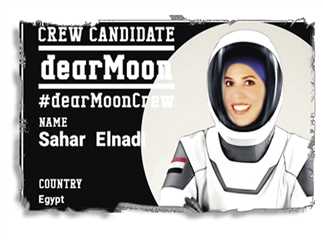 The first civilian space trip to orbit the moon in human history may seem like a mere imagination for millions around the world, but for Egypt's Sahar Al-Nady, its an opportunity to put the flag of her country far beyond the moon.
The space trip, set to leave in 2023, was financed entirely by Japanese billionaire Yusaku Maezawa from Elon Musk, owner of Space X and Tesla.
Maezawa announced the opening of the application for the trip in March, with just eight spots open.
If selected, Nady will be among the first civilian team to travel to space on a non-scientific mission.
Nady confirms – according to an initiative to support Egyptian women dubbed "Egyptian Women" – that although she's aware that her chances might be slim, given that thousands, perhaps tens of thousands, around the world have applied for the trip, she still dreams of delivering the flag of her country beyond the moon, which is sufficient encouragement for her to try.
Nady believes that there are no limits to human achievement, and that women are able to go through the most difficult experiences in the darkest circumstances, she said.
It is very possible that no one will return from this trip, Nady said. "It can end with everyone on board the first minute after launch! And possibly in space. It is possible a few seconds before the landing, before your leg touches the Earth of this planet again, and you may live with health or psychological problems for the rest of your life because no one knows the effect of the trip on humans," she added.
Edited translation from Al-Masry Al-Youm