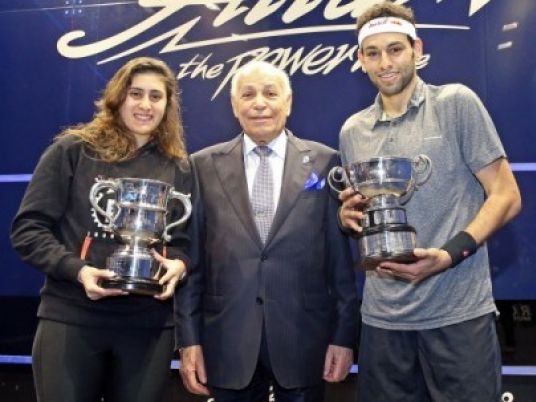 Women's world quash champion Nour al-Sherbiny has been appointed as a sports advisor for the governorate of Alexandria, a post bestowed upon her by Alexandria Governor Mohamed Abdel Zaher, who said that her ideas on promoting sports should be taken seriously.
Abdel Zaher made the announcement during a speech at Alexandria's Sporting Club on Sunday, praising her achievements in becoming Egypt's first female world squash champion in April and offering the governorate's shield for her accomplishments, Youm7 reported.
It is unclear whether the sports advisor role bestowed on Sherbiny is an official, paid position with particular responsibilities or a more informal arrangement by which officials are merely encouraged to seek her advice.
Expressing the appreciation of the Egyptian people and the government for Sherbiny's achievements, the governor said her win brought some joy back to Egypt after a period of depression due to difficult circumstances.
"We will never forget what she offered to Egypt. She is a source of pride for Egypt and every Egyptian family," he said.
He said that her achievement was a sign of her determination and enthusiasm.
The governor also thanked those who supported her during her sporting career, including her family and coaches.
He presented Sherbiny with the shield of the Egyptian Olympic Committee and a memorial shield from the Sporting Club.
Sherbiny, 20, became the youngest-ever women's squash world champion after her victory at the Professional Squash Association (PSA) World Women's Championship in Malaysia on April 30.
She is currently preparing to take part in Dubai's international squash championship on May 24-28.