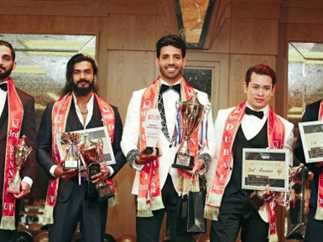 Egyptian Yasser al-Naggar, won the Mr. Dubai 2022 award for the first time against a number of competitors from different nationalities.
Naggar, 32 lives in Dubai, UAE and works in the field of advertising and organizing events: which encouraged him to join the competition.
Applicants should be no more than 35 years old, influentials on social networking websites and in general have a good physique and look.
Naggar was a football star and spent a long time playing.
He eventually ended up his football career with Enppi Club at the age of 17 years old.
Mr. Dubai competition does not depend on appearance only but rather other qualifications.
Self-confidence and a taste for fine culture, which is reflected through answers to questions by the jury to contestants.
In the end these points are collected by the jury based on answers to announce the winner.
Nearly 1,000 contestants from different nationalities including India, the Philippines, Russia, Uzbekistan, Sri Lanka, Pakistan, took part in this version.
Naggar was the only Arab who participated in the competition. During the final stage, there were only 13 contestants.
The award includes financial prize, in addition to sponsorship rights from some nutritionists and private companies.