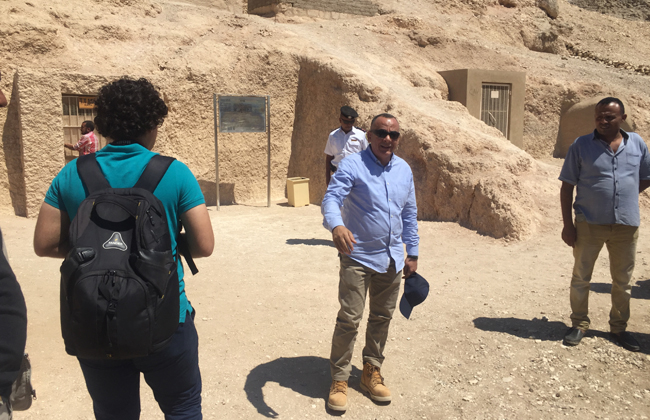 Minister of Antiquities Khaled al-Anani inaugurated two new cemeteries in the Zeraa Aboul Naga archaeological area in Luxor for the first time to the public after its restoration.
The cost of restoration work cost was LE16 million, funded from the American Research Center, Secretary General of the Supreme Council of Antiquities Mostafa al-Waziry said.
He added "The American Research Center has completed the restoration of the two cemeteries in Luxor, which began in 2015 and took two years to 2017."
Waziry pointed out that during the two years, nearly 300 Egyptian restorers were trained by the American Research Center.
He added that the restored tombs bear the numbers "TT159" and "TT286". The first dates back to the 20th Dynasty and belongs to the fourth priest of Amun and his wife, and the second to the "writer of the table of offerings" in the era of Ramses, featuring colorful depictions of daily life and funerary scenes.

The Zeraa Aboul Naga cemeteries are located on the western mainland of the Nile in the ancient city of Thebes in Luxor, at the entrance to the dry bay leading to the Deir al-Bahari area.
Anani and Acting US Ambassador to Egypt Thomas Goldberger on Sunday celebrated the finished restorations of the TT159 and TT286 tombs at Dra Abu al-Naga Cemetery in Luxor, alongside the restoration of four compartments at the Karnak Temple of Khonsu.
The American Research Center in Egypt (ARCE) and the Ministry of Antiquities established a joint archaeological mission to restore the two tombs in Luxor and the four compartments, at the cost of LE35 million granted by the United States Agency for International Development (USAID).
Anani praised the ARCE and the USAID in the restoration and protection of Egyptian antiquities, and the training of Egyptian restorers on the restoration and protection of tombs and temples. Goldberger said that the USAID has offered over US$100 million since 1995 to US-funded restoration programs, which will help Egypt's tourism sector become a key driver of economic growth and job creation.