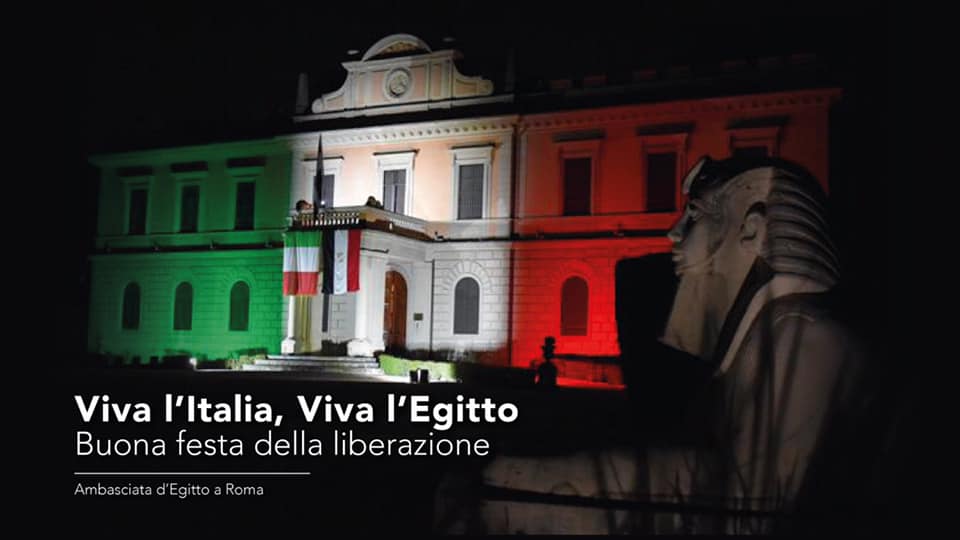 The Egyptian Embassy in Rome on Tuesday lit up its headquarters in green, white and red — the colors of Italy's flag — as a sign of solidarity in combating the novel coronavirus. The display is also meant to commemorate Italy's Liberation Day, celebrated on April 25.
Members of the Egyptian community in Rome also placed signs on the gate of the Egyptian Embassy in an expression of solidarity with the Italian people in light of current conditions, caused by the spread of coronavirus.
Banners carrying a message of peace and solidarity between Egypt and Italy had previously been carried in the streets of the Italian capital, after Egypt sent urgent medical aid to Italy.
Egypt sent medical supplies to Italy in March and April. Egypt's Minister of Health and Population Hala Zayed also visited Italy earlier this month on the orders of Egyptian President Abdel Fattah al-Sisi.
Italian Foreign Minister Luigi Di Maio thanked Egypt and its people for the aid during a conversation with Zayed, emphasizing the Italian people's appreciation for Egypt's assistance.
Italy ranks third in terms of the number of cases of coronavirus around the world, with more than 183,900 infections and roughly 24,600 deaths.
Edited translation from Al-Masry Al-Youm