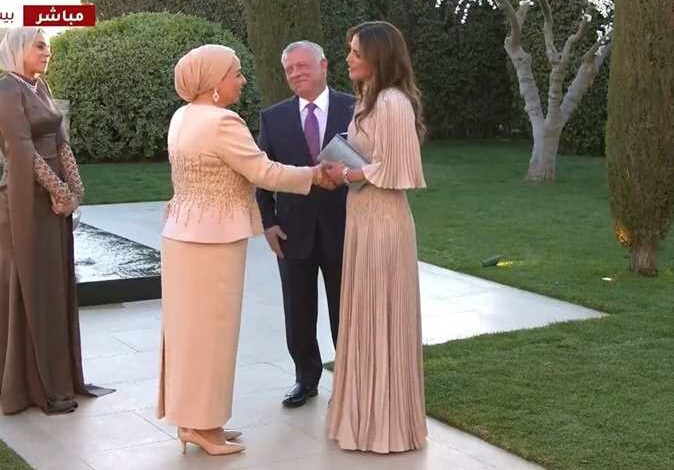 Egypt's First Lady Intissar al-Sisi and her daughter Aya al-Sisi participated on Sunday in the wedding ceremony of Princess Iman, the daughter of the Jordanian Monarch King Abdullah II.
عقيلة الرئيس المصري وابنته وأمراء وأميرات عرب بين ضيوف حفل #زفاف_الأميرة_إيمان #الأردن #الأميرة_إيمان #هنا_المملكة pic.twitter.com/9wQ2mVsHDb

— قناة المملكة (@AlMamlakaTV) March 12, 2023
The official Jordanian channel al-Mamlaka TV broadcast a video of the moment Mrs. Sisi and daughter arrived at Princess Iman's wedding venue, where they were received by the Jordanian Monarch and his wife Queen Rania  al-Abdullah.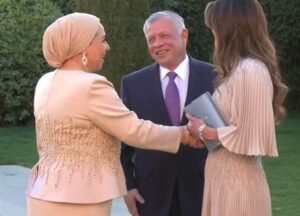 On Sunday evening, the marriage and wedding ceremony of Princess Iman, to Jameel Alexander Thermiotis, began. The bride wore a long, lacy wedding dress while carrying a white bouquet, while her husband wore a black formal suit.
The marriage and wedding ceremonies were held in Amman's Beit al-Urdon Palace, the palace of the Jordanian Monarch, in the presence of King Abdullah II and his wife, Queen Rania Al-Abdullah, senior members of the royal family, and a crowd of senior Jordanian, Arab and foreign invitees.