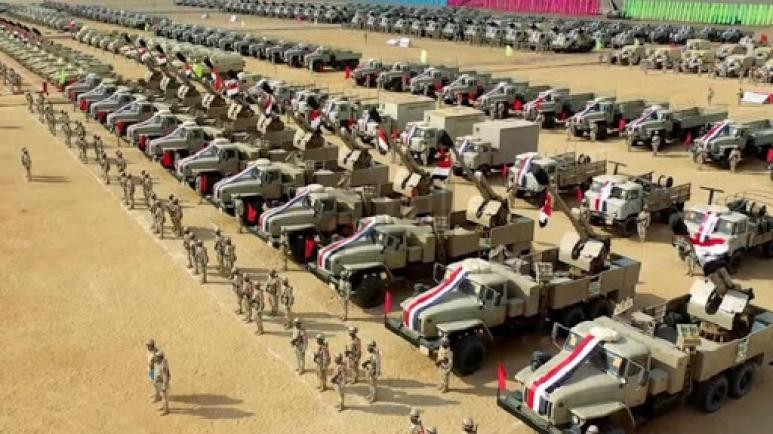 Leading international ranking website Global Fire has listed Egypt 9th out of 138 countries in terms of its military strength, with the country jumping three places compared to 2019, according to the website's freshly released 2020 report.
The US military topped the list, while the Russian military came in second place, followed by China and India.
Out of the total Egyptian population, which is estimated at 99,413,317, the report showed that the number of available manpower stands at 42,496,553. Total Military Personnel is at 920,000, while 36,075,104 individuals are listed as "fit for the service."
When it comes to air power, the report said that Egypt's total strength stands at 1,054 assets, which include 215 fighters, 294 helicopters, 81 attack helicopters, and 387 trainers.
In ranking land forces, the report says that the Egyptian military houses 4,295 tanks, 11,700 armed vehicles and 1,084 rocket projectors, among other weapons of war.
The Egyptian naval force, meanwhile, is made up of 316 totals assets, among which there are 2 aircraft carriers, 7 frigates, 8 submarines, and 0 destroyers.
In discussing what the Egyptian forces own in terms of natural resources, the report indicated that the military's oil production stands at 589,400 bbl.
Egypt's defense budget is estimated at $US 11,200,000.
In February 2018, Egypt launched a comprehensive mission that sees the Egyptian Army battling militant Islamists in several areas of the country, particularly North and Central Sinai, according to an official statement aired on television last year by army spokesperson Tamer al-Refai.
Egypt has devoted considerable efforts to bolstering the military's strength, inking diverse agreements with several leading countries, including France in 2014, when Egypt acquired four French Gowind battleships as part of a €1 billion deal.
Egypt purchased French weapons costing €5.2 billion in 2015, including 24 Rafale combat jets.
In July 2018, US Secretary of State Mike Pompeo lifted a suspension on $195 million in military aid to Egypt that Congress had approved for budget year 2016, but which had been frozen due to allegations of ongoing human rights abuses in the country, according to a report from The Associate Press. In September of that same year, Pompeo authorized the release of another $1.2 billion in US military aid to Egypt.
Also this week, Egypt's Ministry of Defense announced the start of registrations in the suppliers' roster for civil sector companies that wish to transact with Egypt's armed forces during the fiscal year 2020/2021.
Egypt's Sovereign Wealth Fund, which aims to enhance partnerships with the country's private sector, also recently signed an agreement with the Ministry of Defense National Service Projects Organisation (NSPO), which is owned by the armed forces and is active in a number of sectors, over efforts to restructure and develop several affiliated companies.