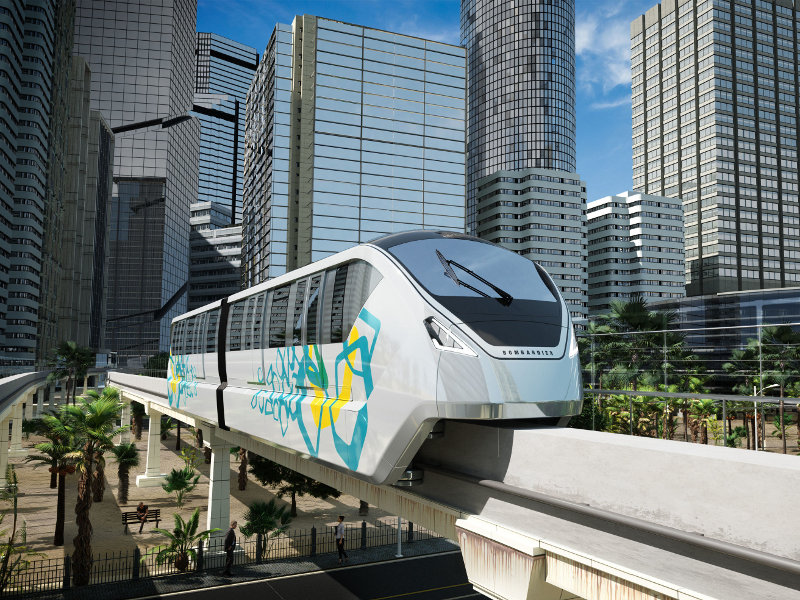 In October, Egypt has installed the first monorail at the East Nile track in front of the Al-Massa Hotel at the Arts City station at the New Administrative Capital.
In the hopes for a stronger economy, the monorail is an essential element of Egypt's unprecedented, high-functioning transport network which will foster  industrial developments and stimulate substantial investments.
The government is also keen to bet on the monorail as the solution for its escalating traffic congestion.
It will positively impact the livelihood of Egyptians by offering a faster and more convenient mode of transport, according to Essam Waly, Chairman of the National Authority for Tunnels (NAT).
Other advantages of the project include its capability to run on electricity, making it a less costly substitute in comparison other means of public transport.
Its environmentally friendly nature with fewer harmful emissions and a fully automated and driverless operation system guarantees safe and reliable function, eliminating the risk of traffic accidents and human error. 
Egypt is expected to build two lines in its monorail project with both lines capable of transporting up to 45,000 passengers per hour in each direction. The first line is 56.6 kilometers long and serves 22 stations, linking the New Administrative City to East Cairo, while the second will run from 6th of October City to Giza, encompassing 12 stops at a length of 42 km.
In April, Egypt's NAT sealed a EUR 1.8 billion loan agreement with JP Morgan Europe Limited, UK Export Finance, and other financial institutions for the project.
A booster dose for the economy
The monorail is perceived as a golden opportunity to replicate the success of public-private partnerships in Egypt. Based on a contract signed with NAT in 2019, Orascom Construction and Arab Contractors are investing around 50 percent of the total cost of the project, which is estimated at 55 billion Egyptian pounds, said Ihab Mehawed, Managing Director at Orascom Construction.
He added that both major companies are jointly in charge of the design-build of systems, construction works, operation, and maintenance. Another company, Alstom, which acquired Bombardier in January 2021, will supply an onboard signaling system and 300 trains. After construction finishes, the three companies will be responsible for operation and maintenance for 30 years.
The project is set to bring about a ripple effect on Cairo's economic activity and livelihoods, according to Waly.
The public-private partnership will play a crucial role in enhancing labor productivity, ensuring effective risk assessment mechanisms and providing expertise. The innovation and technological advancements required to foster the operational efficiency of the project will be mainly handled by the private sector.
The partnership between Orascom and Arab Contractors is not new, and has already a proven track record of achievements in the past years. "We have been joining forces in developing and funding the country's national major projects for over 25 years. Underground railways and Suez Canal tunnels are among other projects that we have collectively carried out. Consequently, our collaboration will hopefully make inroads into this new transport project either," Mehawed said in an enthusiastic, confident tone.
Moreover, the monorail is one of the projects predicted to contribute to a flourishing industrial sector. Egypt is planning to establish its first factory to manufacture trains of all kinds including those for the monorail, the railroad, and the metro.
Subsequently, as Wali explained, an industrial base will be established in efforts to realize value addition, rapid employment rates, and higher national income.
Luxurious transport for tourists' comfort
Besides being a massive development project, the monorail is forecasted to pave the way for more great strides in Egypt's thriving tourism industry.
Following in the footsteps of Dubai, Malaysia, and other countries across the globe, Egypt's monorail is not meant to be a mere transport mode for locals to navigate across the country. Rather It is also meant to serve as a convenient, alluring mode of transport for tourists.
The monorail will ease movement between and beyond the edges of Greater Cairo to explore its landmarks in a speedy, luxurious manner.
"It will facilitate trips to significant tourist attractions to The Citadel and The National Museum of Egyptian Civilization and to Egyptian Museum at Tahrir Square. Additionally, it will provide a direct connection to the Metro's fourth line serving Giza's Haram district, which has two significant stations located in front of the Grand Egyptian Museum and the Giza Pyramid Complex," he added.
New standards, serious challenges
"The monorail is a unique type of public transportation that introduces an innovative approach to the country's infrastructure development, so it is quite challenging to execute for the first time," Mehawed said.
 Superior quality and high-advanced technology infrastructure development are indispensable features to provide greater efficiency, extra safety, and positive environmental impacts. "We currently bear in mind all of these essential requirements while conducting the technical aspect of the project's feasibility studies," he said.
Moreover, the leading-edge technology of the monorail entails a wide range of expertise. Consequently, Orascom Construction is drawing upon foreign experts to come up with the specifications of the project's designs, which are identified as "first-of-its-kind" in Egypt.
A tight time frame is another challenge facing the construction company. "The clock is ticking while arduous works are still underway. However, we spare no effort to adhere to the project's timeline which has been agreed upon with the Egyptian government," Mehawed said.
So far, Wali concluded, the New Administrative City line has reached 24 percent completion and is slated for full completion in 2022. Meanwhile, the 6th of October City line's construction work is 22 percent complete, and is scheduled to finish in 2023.