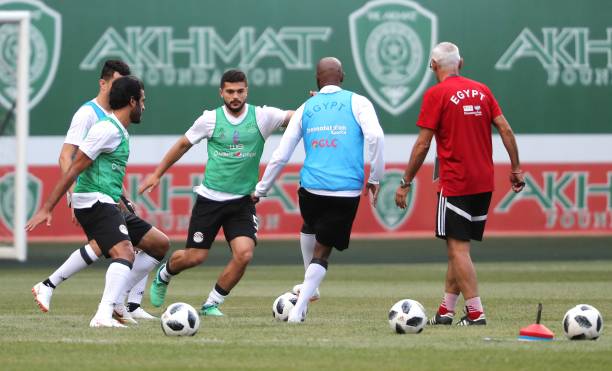 The Egyptian national football team arrived on Sunday in the Russia Republic of Chechnya for their pre-World Cup commencement training.
The training was open to spectators and attended by around 8000 fans, including Egypt's Ambassador in Russia Ihab Nasr and Head of the Russian Republic of Chechnya Ramzan Kadyrov, according to Sputnik Russian News Agency who had a reporter on the ground.
Egyptian football superstar Mohamed Salah was spotted entering alongside the team, though did not take part in the training. Instead, the 25-year-old Liverpool striker was seen in the stands with Kadyrov, holding hands and greeting the audience. Salah left once training began.
Grozny, a city within the Russian Republic of Chechnya, is where the national team will be based during the World Cup. This is the first World Cup tournament ever to be hosted by Russia and will span from 14 June until 15 July, in 11 Russian cities.
This marks Egypt's first World Cup debut since 1990, where the seven-time-African champions have been placed in Group A, along with hosts Russia, Uruguay, and Saudi Arabia. Egypt is expected to face-off against Uruguay first on 15 June, followed by Russia on 19 June and finally Saudi Arabia on 25 June.
Egypt has been facing a tough pre-World Cup season, having failed to win any of its friendly, preparatory matches, barely drawing with Kuwait and Colombia, and losing to Belgium. A recent rank by the FIFA still placed Egypt as the 45th strongest team in the World Cup. This comes as an improvement from FIFA's initial rank for Egypt, where it was the 46th strongest.
FIFA also ranked Egypt as the fifth strongest African team in the tournament behind Tunisia, Senegal, Congo DR and Morocco.