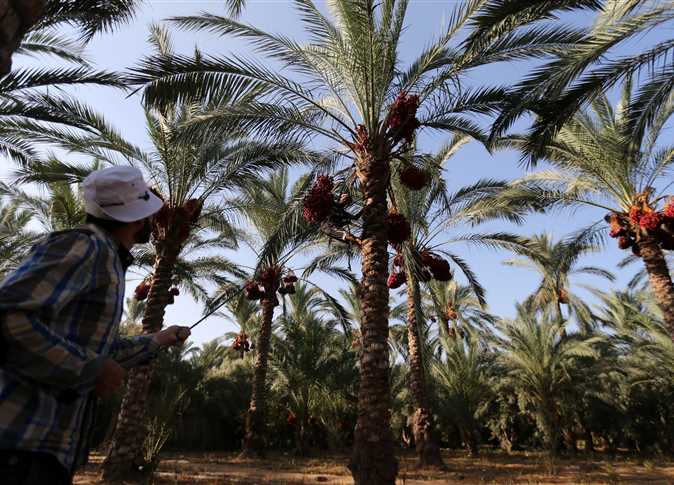 The General Secretariat of the Khalifa International Award for Date Palm and Agricultural Innovation handed over on Sunday the New Valley Dates Complex to New Valley authorities, after the complex had been rehabilitated and provided with the latest equipment, production lines, and industrial technology.
This experimental operation of the complex, which comes as a result of cooperation between the Ministry of Trade and Industry and the award, started on Sunday.
New Valley Governor Mohamed al-Zamlout said that the complex is considered one of the oldest date factories in Egypt, established in 1990 with the aim of maximizing the added value of the province's production of fruits, providing job opportunities for the people of the governorate, improving the income of farmers and protecting them from market fluctuations.
The rehabilitation and development of the factory, coming under the supervision of the General Secretariat of the Khalifa International Award, aims to develop the infrastructure and keep up with the overall renaissance in date palm cultivation and production to raise exports.
Zamlout added that the project aims to increase the production capacity of the factory to 5000 tons per year, diversify production lines, improve the quality of products and add new products using the latest international machines and technologies, in accordance with the approved health requirements.
Egypt's dates industry is focused in the oases of Kharga, Dakhla and Farafra, and represents the source of income for the majority of the population of the oases, Zamlout said.
The number of palms in the Bahariya Oasis recorded over 2.2 million palm trees, representing 15 percent of the palms in Egypt.
The project is part of a number of generous initiatives by Sheikh Mansour bin Zayed Al Nahyan, UAE Deputy Prime Minister and Minister of Presidential Affairs, and comes within the framework of close historical ties between Egypt and the UAE, said Secretary General of the Khalifa Award Abdel Wahab Zayed.
According to Zayed, the total cost of the project amounted to about LE14 million, and provided more than 1,000 direct and indirect jobs.
Edited translation from Al-Masry Al-Youm