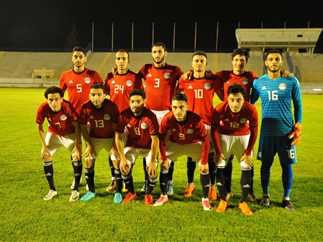 Egypt's Olympic football team won a match against Algeria on Sunday, scoring two goals versus one for the Algerian side in a friendly, preparatory match for the African Championship, a qualifier to the 2020 Tokyo Olympics.
The Algerian side took the lead first, scoring in the 57th minute, before the Egyptian side retreated with a goal in the 63rd minute, tying the score, before finally sealing the deal with a final goal in the 88th minute.
The two teams will be meeting again on Wednesday.
This is not the first preparatory match the Egyptian Olympic Team has undergone. The team lost against Tunisia with a 2-1 score on Tuesday in Tunisia.
Egypt's Olympic Football team is a national team for players under 23-years-old, managed by the Egyptian Football Federation, with the purpose of qualifying to the African Championship and eventually the Olympics. The players must be 23 years old or younger by the following Olympic year, though teams are allowed to call upon three older players to join them.
Egypt qualified for the first time in 1920, where they lost after only one match against Italy. This was the first international match the Egyptian Olympic team had ever played. Egypt then qualified nine times and won fourth place twice. The first time was in Amsterdam in 1928 followed by Tokyo in 1964.
More recently, Egypt qualified for the London Youth Olympics in 2012 under the tutelage of legendary Egyptian coach Hany Ramzy.