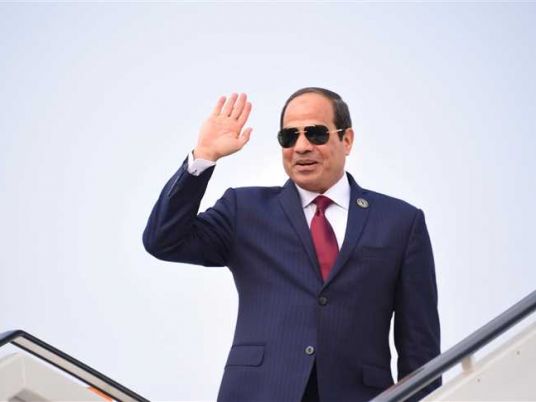 Egyptian President Abdel Fattah al-Sisi said on Wednesday he was against military strikes on Iran or the Tehran-backed Lebanese group Hezbollah, saying there was enough turmoil in the Middle East.
In a meeting with a group of journalists, Sisi also pledged support for Saudi Arabia in its stand-off with Iran.
Asked about the prospect of attacks on Iran and Hezbollah – two days after Saudi Arabia had accused Lebanon of declaring war because of Hezbollah's "aggressive actions", Sisi stressed the importance of de-escalation.
"I am always against war," Sisi said, without spelling out who might be involved in military action.
Sunni powerhouse Saudi Arabia called for sanctions against Hezbollah this week and accused Iran of supplying Yemen's Houthis with missiles used to target it.
"I have said it once and I will say it again, Gulf national security is Egyptian national security. I have faith in the wise and firm leadership of Saudi Arabia," Sisi said.
Sisi said the situation in the kingdom was "reassuring and stable" following last weekend's arrests of 11 princes, former and current ministers, and a group of elite businessmen on corruption allegations.
They face allegations of money laundering, bribery, extortion and exploiting public office for personal gain.
Sisi stressed his backing of Saudi Arabia and other Gulf Arab states, which have showered Egypt with aid ever since the general-turned-president led the military's ouster of former President Mohamed Mursi of the Muslim Brotherhood in 2013 following mass protests.
Lebanon has been thrust to the center of regional rivalry between Saudi Arabia and Iran since the Saudi-allied Lebanese politician Saad al-Hariri quit as prime minister on Saturday, blaming Iran and Hezbollah in his resignation speech.
Hezbollah is both a military and a political organization that is represented in the Lebanese parliament and in the Hariri-led coalition government formed last year.
Its powerful guerrilla army is widely seen as stronger than the Lebanese army, and has played a major role in the war in neighboring Syria, another theater of Saudi-Iranian rivalry where Hezbollah has fought in support of the Syrian government.
COY ON ELECTION
Sisi was elected a year after he ousted Mursi and his first four-year term ends next year. He would not be drawn on when he would announce a re-election bid, although he is widely expected to run and win. He hinted at doing so by February.
"I have to present achievements over the past four years to Egyptians first, before saying whether I will run or not. I will do this over the next two months, December and January, and based on their response I will reach a position on running."
One candidate has already declared his intention to challenge Sisi. Rights lawyer Khaled Ali announced his 2018 bid on Monday in a speech criticizing Sisi's administration; accusing it of suppressing freedoms and causing deteriorating economic and security conditions.
Egypt's economy has been struggling to recover since a 2011 uprising scared away tourists and investors, two main sources of foreign currency, but a three-year International Monetary Fund program is expected to help restore confidence.
The IMF program is tied to harsh reforms, chief of which was the central bank's decision to float the pound currency last year, which halved its value from 8.8 to the dollar to almost 18. Sisi said on Wednesday he expected the pound to rally in the near future.
"I expect that the exchange rate will strengthen in the coming period, because all the problems that created the crisis over the past few years before the float, I believe, have been solved," he said.
Tourism, a major source of hard currency, took a massive hit in 2015 when Russia suspended flights to Egypt, after Islamic State blew a plane out of the air that took off from Sharm al-Sheikh, the Red Sea resort in which Sisi was speaking on Wednesday, killing all 224 people, mostly Russians, on board.
Sisi said he was not pressing the Russian government to restore flights because he understood its need to protect its citizens.
"I have never, and will never, insist on the restoration of flights," he said.
MILITANT THREAT
He said security forces were making significant gains against militants, however. The military had captured a foreign fighter in a raid it carried out against militants responsible for a deadly attack on a police convoy in Egypt's Western Desert last month, he said.
Three security sources said at the time that at least 52 police officers and conscripts were killed on Oct. 21 when their patrol came under attack, but the interior ministry rebutted the figure the next day and said only 16 policemen had been killed.
A new militant group with links to al Qaeda claimed responsibility for attack last week.
The foreign militant is the sole survivor of the raid and his confession would be revealed to the public soon, Sisi said.
The Western Desert, which spans Egypt's more than 1,200 kilometre (745 miles) border with Libya, is a new battlefront for security forces, who have been fighting Islamic State militants in the Sinai Peninsula since 2013.
Sisi did not specify the fighter's nationality but the porous border with Libya has been used to smuggle people and weapons regularly.
When asked about his support for Khalifa Haftar, the eastern Libyan commander whose Libyan National Army has been fighting Islamist militant groups and other fighters in Benghazi and Derna for more than two years, Sisi said it did not mean he opposed the U.N.-backed Tripoli-based government, even though Haftar and his supporters reject it.
"Our support for Haftar is in line with the constants of Egyptian policy; we support a political solution and our backing of Haftar is not at the expense of Fayez Seraj's government."