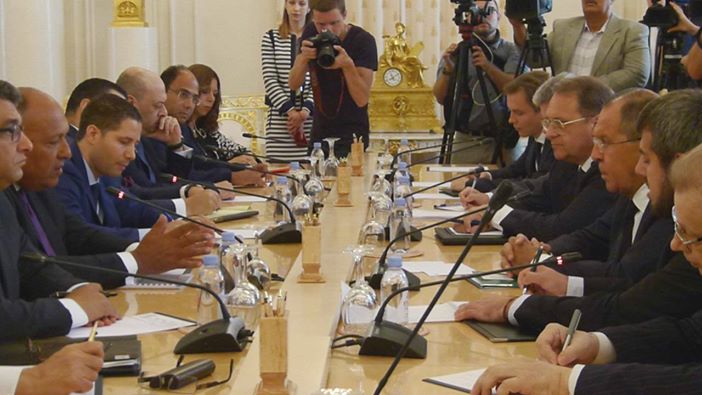 Egyptian Foreign Affairs Minister, Sameh Shokary, asserted on Monday that Egypt is playing a political role not a militant one in Syria, he noted that it is looking to decline waves of violence in the war-torn country, for the sake of creating peaceful areas for civilians and saving them.
Shokary's statements came during a press conference held in Moscow between him and his Russian counterpart Sergey Lavrov, where he stressed that Egypt is keen to play a political role that will help minimize conflict in the region.
He went on to say that Egypt will not play any military role in Syria, or even participate in monitoring operations, adding that Egypt will do its best aid Syrians affected by the war.
Shokary, who is on an official visit to Russia, noted that he delivered a letter from the Egyptian president, Abdel Fattah Al-Sisi, to his Russian counterpart Vladimir Putin, and explained that his visit aims to enhance bilateral relations between both countries.
The Russian Foreign Affairs Minister, Sergey Lavrov, stated during the press conference that progress had been made concerning flights between the two countries.
Lavrov explained that his country is currently considering resuming flights from Egypt, noting that there are experts working on any obstacles that may hinder this development, adding that there will be a clear stance on the matter soon.
The press conference reviewed main topics discussed between both ministries that included counter terrorism efforts performed by the two countries and bilateral efforts to reach a truce in the Syrian cities of Homs and Ghouta.
The Egyptian Foreign Affairs Minister stated at the conference that his country is seeking Russian support of the Egyptian nominee for the head of UNESCO, Moushira Khattab, who will run at the UNESCO elections in October 2017.
An unprecedented number of Russian flights to Egypt were suspended October 2015 in the aftermath of a deadly crash of a Russian airplane, that took off from Sharm al Sheikh International airport en-route Russia.
The crash took place over the Sinai Peninsula and led to the death of all 244 airplane passengers. The incident was claimed by the IS affiliated group of 'Sinai Province'.
In November 2015, President Vladimir Putin announced that the crash was a result of a terrorist attack and vowed to hunt down the perpetrators, however, Egypt stated December 2015 that there is no clear evidence the crash was due to a 'terrorist attack'.
The 'Sinai Province' later declared that it had managed to destroy the Russian airplane with the use of Soda cans; it vowed to target any entity or state that engaged in a war against the Islamic State.