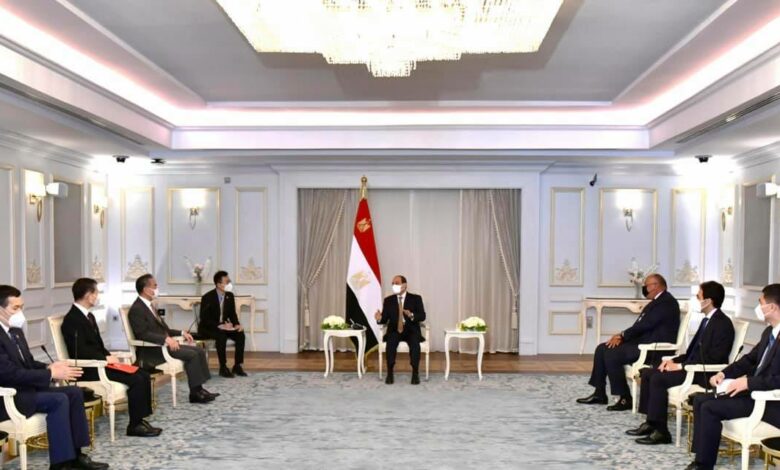 Egyptian President Abdel Fattah al-Sisi on Sunday discussed with Chinese Foreign Minister Wang Yi the latest developments regarding the disputed Grand Ethiopian Renaissance Dam (GERD).
Sisi affirmed Egypt's firm position to preserve its water security represented by its historical rights to the Nile waters through reaching a binding legal agreement to fill and operate the Renaissance Dam and achieve the interests of all in a fair manner.
The Chinese Foreign Minister affirmed his country's full understanding of the Nile River's utmost importance to Egypt, and China's continued interest in finding a solution to this issue in a manner that meets the interests of all parties.
Wang also conveyed a verbal message from Chinese President Xi Jinping, which included an affirmation of China's keenness to continue developing its strategic relations with Egypt.
He referred to the respect and appreciation his country holds towards President Sisi and Egypt due to its pivotal role as a fundamental pillar of stability in the Middle East.
China further firmly supports Egypt in its comprehensive development efforts, combating terrorism and achieving security and stability in the region.
To help further bilateral cooperation between both nations, Wang said he accepted Egypt as a dialogue partner in the Shanghai Cooperation Organization, which deals with coordination and cooperation in combating terrorism and extremism, energy and science.
Egyptian Presidential spokesperson Bassam Rady said in a statement said that the meeting also witnessed a review of prospects for enhancing bilateral cooperation between the two countries and a desire to strengthen international efforts in facing the repercussions of coronavirus epidemic.
The meeting praised the coordination done since the outbreak of coronavirus pandemic, leading to the signing of the joint manufacturing agreement for the Sinovac vaccine in Egypt which supports the national strategy for the localization of the pharmaceutical and vaccine industry in Egypt.
The Egyptian president also stressed his keenness to benefit from China's distinguished expertise in supporting development programs, activities and national projects in Egytp, especially in light of the modern infrastructure that Egypt now enjoys, which is integrated with the Chinese "Belt and Road" initiative.
He noted the important role played by the Chinese-Egyptian Economic and Trade Cooperation Zone in the Suez Canal Economic Zone, as a successful model for investment cooperation between the two countries.