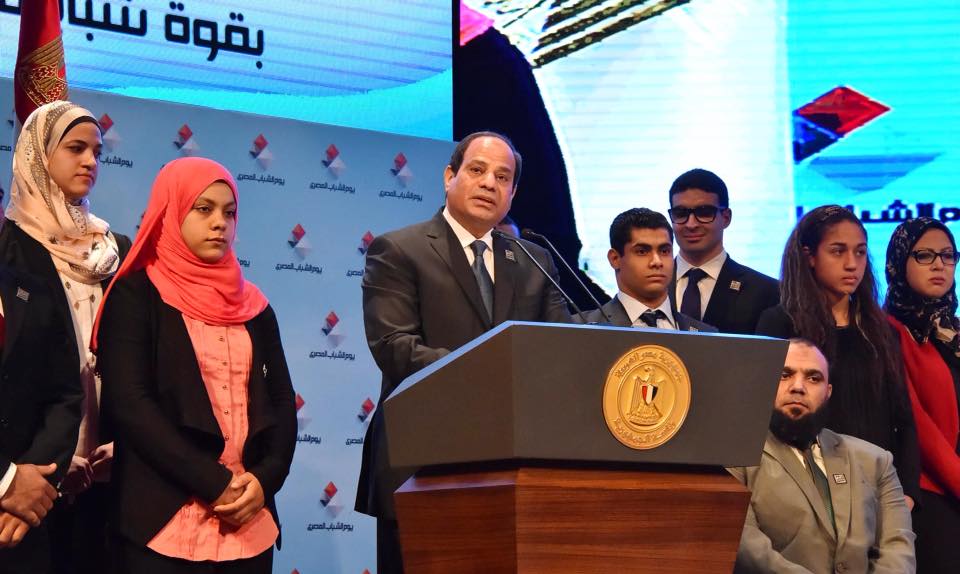 Egypt's President Abdel Fattah al-Sisi on Saturday launched the eight edition of the National Youth Conference, which will be held for one day at the al-Manara International Conference Center in New Cairo.
The conference will be attended by 1,600 people, the majority of whom are youth. Graduates of the Presidential Leadership Program (PLP), university students, young politicians, engineers working in national projects, doctors and young businessmen will attend the conference.
The agenda of the conference includes three sessions, most notably the "Ask the President" and two others.
The first session is "Evaluating the Local and Regional Counter-Terrorism Experience," which will review the phenomena of terrorism and its development in the region, the return of IS members to their countries, and how these impact Egypt and the world.
The second session, "The Impact of Dissemination of Lies on the State in the Light of the Fourth Generation Wars," includes discussions on the role of social media in falsifying news and spreading disinformation, as well as discussing how social media has become an alternative form of news media.
The highlight of the eighth edition of the conference's agenda, the "Ask the President" session received questions on this website since Tuesday, and closed on Friday.
The "Ask the President" sessions began in the third edition of the conference, which was held in Ismailia in April 2017. Since then, this session has been repeated at various national youth conferences, due to its importance, and allowing citizens to see the president's response to their questions.
The National Youth Conference announced the opening of registration for those wishing to attend the eighth edition of the conference starting on Tuesday, with those wishing to attend registered through the official website of the conference. Registrations closed on Thursday.
The National Youth Conference started as an opportunity for dialogue, and discovering the ideas of young people and support communication between the government and youth, following the launch of the Youth Conference in Sharm el-Sheikh, South Sinai Governorate in October 2016.
Edited translation from Al-Masry Al-Youm