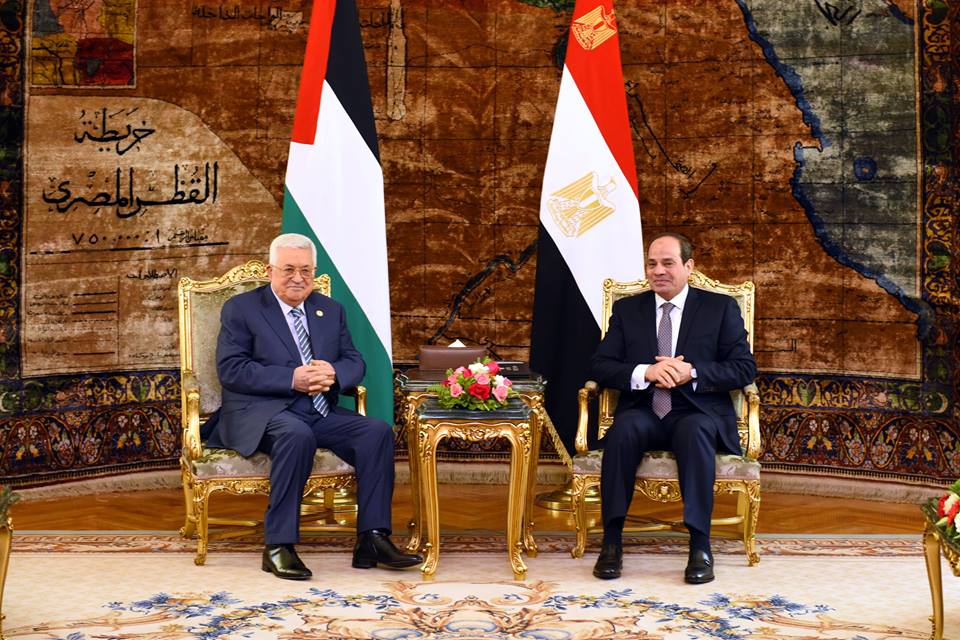 Egypt's President Abdel Fattah al-Sisi held a meeting with Palestinian president Mahmoud Abbas in Cairo to discuss Egyptian support for the Palestinian Cause in the presence of foreign minister Sameh Shokri, head of the General Intelligence Service (GIS) Abbas Kamel and Secretary of the Palestinian Liberation Organization (PLO) Saeb Erekat.
During the meeting, Sisi insisted on reaching a comprehensive solution that leads to the establishment of Palestinian State with East Jerusalem as capital, Presidency's Spokesperson Bassam Radi said.
Sisi asserted that the government would maintain communicating with donors to find a mechanism for solving the financing crisis faced by the UN Relief and Works Agency (UNRWA).
Abbas briefed the Palestinian position and developments in the Palestinian cause, praising Egypt's efforts to solve Palestinian issues and achieve Palestinian national unity.
The meeting also reviewed difficulties facing the Palestinian Authority, notably after Israel froze the transfer of 500 Million Shekels of Palestinian Authority Taxes.
According to  the permanent representative of Palestine at the Arab League Diab Allo, Abbas attended the meeting of the extraordinary session of the Council of the Arab League at the ministerial level , held at the request of Palestine, to discuss the situation in the occupied territories.
The Arab League said that there were important developments regarding the announcement of the so-called "Deal of the Century," and that these developments have made the Palestinian side call for the meeting to mobilize the Arab position against these developments.
Edited translation from Al-Masry Al-Youm