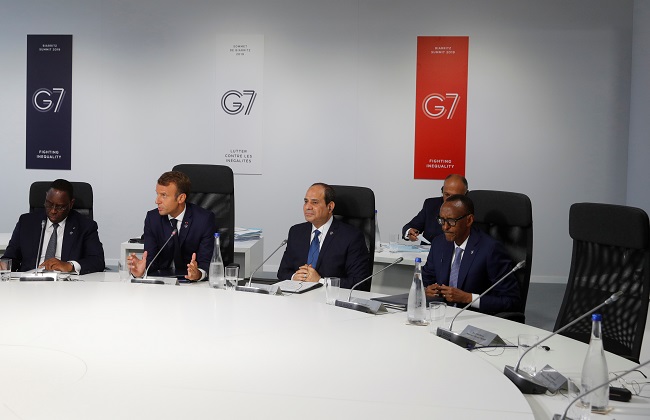 Egyptian President Abdel Fattah al-Sisi met with President of Rwanda Paul Kagame, President of Senegal Macky Sall, President of South Africa Cyril Ramaphosa, and President of Burkina Faso Roch Marc Christian Kaboré to coordinate the African countries stances on various issues, on the sidelines of France's G7 summit running from August 24-26.
Egypt's Presidency spokesperson Bassam Rady said that Sisi asked for coordination and consultation to tackle the issues facing African countries. Sisi stressed that the essence of relationships between Africa and the G7 countries is based on equality and achieving common interests.
He asked to address the developmental priorities of the African countries, such as poverty eradication, climate change, combating endemic diseases, youth and women's employment in general and achieving the African Development Agenda 2063's goals.
Rady said that the African presidents praised Sisi's call for coordination amongst the African countries, asserting the importance of reinforcing continental integration, and freeing the intra-African trade by implementing the continental African Free Trade Agreement on May 30, launching the implementation steps for the agreement at the Extraordinary African Union Summit on July 7 in Niger.
Sisi arrived in the French city of Biarritz on Saturday morning to participate in the G7 summit, at the invitation of French President Emmanuel Macron, to discuss various issues including international security, combating terrorism, and confronting the use of the internet for terrorist purposes.
This marks the fourth visit of President Sisi to France since he took office in 2014: the first was in November 2014, the second in November 2015, and the third was in October 2017, where he was received by French President Emmanuel Macron.
Edited translation from Al-Masry Al-Youm