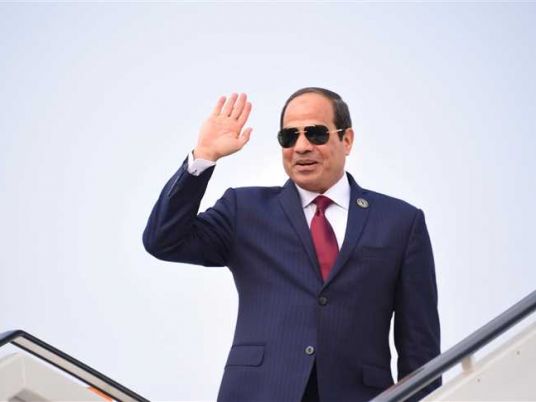 Egyptian President Abdel Fattah al-Sisi officially announced on Friday his intention to run for a second term in the upcoming presidential elections set to take place in March.
Sisi declared his announcement during the final day of the "Story of a Nation," conference where the Egyptian President has been presenting his government's achievements throughout his rule over the past four years.
Egypt's National Elections Commission (NEC)  started on Saturday receiving the documents that are necessary for presidential hopefuls to submit in order to be allowed to run for office in the upcoming elections.
The NEC will receive submission until January 29, according to the presidential race schedule, which is set to start with the vote of Egyptians abroad on March 16, and on March 26 for Egyptians inside the country.
In addition to Sisi, other candidates declared their will to run in the 2018 elections, including human rights lawyer Khaled Ali,  MP and Zamalek Sporting Club chairman Mortada Mansour, and former army chief-of-staff Sami Anan.
However, there is a chance Ali would be disqualified from the race due to his suspended three-month jail term that he received back in September for allegedly making an obscene hand gesture in front of a court.
Former air force commander Ahmed Shafiq had announced his intention to run for the elections, but a few weeks later he pulled out, saying that he felt he was not the ideal person to lead the country.
"My absence of more than five years perhaps distanced me from being able to very closely follow what is going on in our nation in terms of developments and achievements despite the difficulty of the conditions," he wrote.
To be accepted as a candidate for the presidency, candidates must receive the recommendation of at least 20 elected members of the House of Representatives, or support from at least 25,000 citizens enjoying the right to vote in at least 15 governorates, with a minimum of one thousand supporters from each governorate. In all cases, no one person can support more than one candidate.
The campaigning period for the 2018 elections will kickstart on February 24 and end on March 23, state news Al-Ahram reported.
In the case that no participant wins a majority vote during the first round of the elections which are set for March 26-28,  a runoff will be held on April 24-26.
Sisi promised during his speech at the conference on Friday transparent elections, urging everyone to participate in choosing Egypt's next president. He added that he proved responsible at the time he was elected president back in 2014, stating that he put much effort for the sake of Egypt.
Earlier this month, more than 490 MPs signed forms supporting the candidacy of Sisi, in order to make him eligible for competing for a second term.
Over 12 million signatures were also collected as part of Sisi's non-official campaign dubbed as "So That You Can Build It," back in December, in support of Sisi to run for another presidential term.
According to the Egyptian constitution, the president can only serve a maximum of two four-year terms.
Sisi won the 2014 elections with a sweeping 96 percent, after beating his only competitor Hamdeen Sabahi, a leftist politician. He took office one year after former President Mohamed was ousted in July 2013, in response to mass protests against Morsi and the Muslim Brotherhood rule.