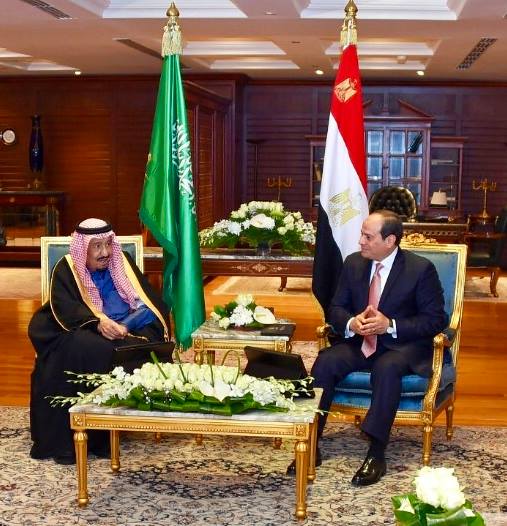 President Abdel Fattah al-Sisi met King of Saudi Arabia Salman bin Abdulaziz on Saturday night, holding bilateral talks that stressed the importance of maximizing Egyptian-Saudi cooperation as a pillar for protection of Arab national security.
The two leaders agreed on the fundamental necessity of Egyptian-Saudi relations in confronting external interference in sovereign affairs for the region's countries, which have recently fueled tensions, conflicts, terrorist activities and extremism.
The talks were held on the sidelines of the 2019 Arab-European summit in Sharm el-Sheikh, running on Sunday and Monday.
Presidential spokesperson Bassam Rady said that Sisi shared the appreciation of the Egyptian people in the leadership of King Salman, and for the firm historic bonds that the two countries share.
Sisi reiterated the need to continue the periodic cooperation between the two sides on regional issues of mutual interest at the highest level, reflecting the two countries' commitment to strengthening their firm strategic alliance. This would also enhance Arab and Islamic unity in the face of the many challenges currently plaguing the region.
King Salman said that his current visit to Egypt further promotes the outstanding relations that bind Egypt and the Kingdom of Saudi Arabia, as they share a common fate and a common future. He added that the visit also reinforces the frameworks of bilateral cooperation across all levels, hoping that it would generate further momentum in the longstanding and solid bonds the two countries share.
The King also lauded Egypt's efforts to organize the first EU-League of Arab States summit in Sharm el-Sheikh, a step forward in strengthening mutual consultations between the Arab world and Europe in order to face the growing joint threats.
The meeting focused on ways to bolster the various aspects of bilateral relations, notably at the economic and investment levels. This in addition to establishing further joint projects, given the promising investment opportunities the two sides offer. Their talks also touched on ways to leverage all areas of cooperation so as to enhance integration between the two countries.
President Sisi reiterated Egypt's adherence to its unequivocal position regarding the security of the Gulf, which is integral to Egypt's national security, and rejecting any practices that would seek to undermine its stability.
Edited translation from Al-Masry Al-Youm