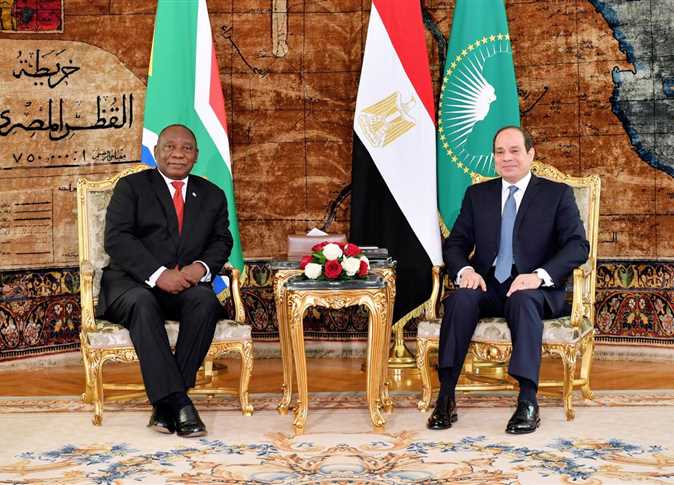 Egyptian President Abdel Fattah al-Sisi held Saturday phone talks with his South African counterpart, Cyril Ramaphosa, discussing topics such as the Libyan crisis and joint African efforts made to settle it within Egypt's "Cairo Declaration" initiative.
Ramaphosa praised the work Egypt has done regarding Libya and welcomed the Cairo Declaration, which is consistent with the African Union's efforts to resolve the crisis and eliminate the risk of its negative impacts on both neighboring countries and Africa as a whole.
President Sisi went over Egypt position's towards Libya, which aims to reach a comprehensive political settlement to achieve security and stability, put an end to violence, infighting and terrorism, return state institutions and enact the desire of the Libyan people.
Egypt also called on members of the France-launched coalition of West African and European allies, during their first meeting on Friday, to take a firm stance against countries that finance, train, and transfer terrorists from Syria to Libya.
Egyptian Presidential spokesperson Bassam Rady added that the meeting also touched on the current status of the Grand Ethiopian Renaissance Dam (GERD) negotiations.
Libyan Parliament speaker Aguila Saleh traveled to Algeria on Saturday where he held talks regarding the situation Libya and the Cairo Declaration.
In the Libyan city of Benghazi, demonstrators gathered to express their rejection of Turkish interference in internal affairs, while Turkish newspaper "Yeni Shafak" revealed that Ankara intends to establish two permanent military bases in Libya.
The UAE and France renewed their support for the Egyptian initiative to end the fighting in Libya, and the need for an immediate and comprehensive ceasefire.
Egyptian President Abdel Fattah al-Sisi on June 6 launched a new plan to resolve the Libyan crisis dubbed the "Cairo Declaration".
This "Cairo Declaration" is a message to the world, Sisi said, and expresses a firm desire to enforce the Libyan people's wish goals of stability and development, to preserve the country's sovereignty and to put its interests first and foremost.
The announcement came during a press conference at the Ettehadiya Presidential Palace, in the presence of Libyan House of Representatives speaker Aguila Saleh, who arrived Friday morning, and the Commander-in-Chief of the Libyan National Army (LNA) Khalifa Haftar, in Cairo since Wednesday evening.
Sisi's plan will respect all international efforts to resolve the Libyan crisis thus far and includes a 48-hour ceasefire throughout Libyan territories, dismantling militias and handing their weapons over to the LNA, expelling foreign mercenaries out of the country, and resuming the 5+5 Libyan Joint Military Commission under the auspices of the UN.