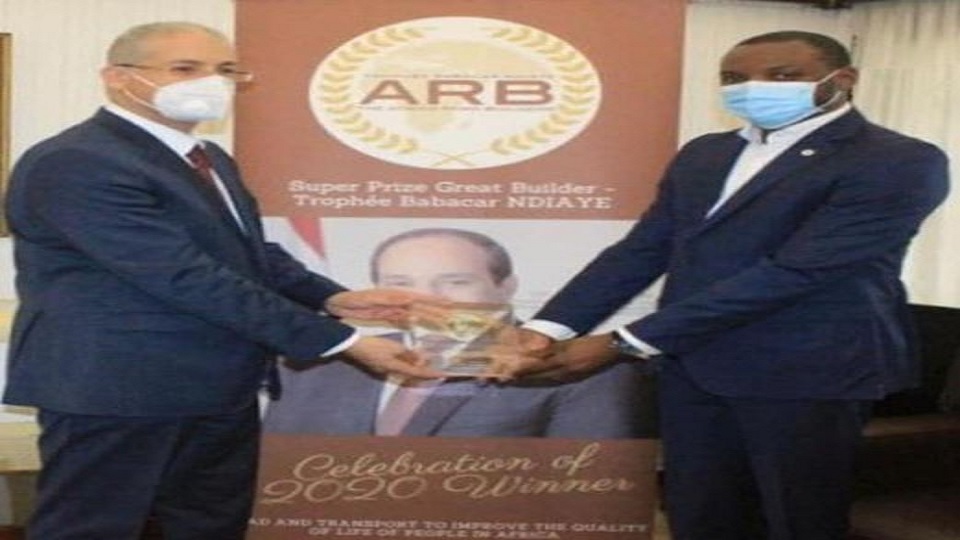 Egyptian President Abdel Fattah al-Sisi was awarded the 2020 Africa Road Builders – Babacar Ndiaye Great Road Builder Award on January 15th, which was delivered to Egypt's ambassador to Côte d'Ivoire Wael Badawy from the Director of Transport and Infrastructure at the African Development Bank Mike Salawou at the embassy headquarters in Abidjan.
Badawy delivered a speech expressing Egypt's gratitude for the award, which he said was granted in appreciation of the scale of the achievements made under the auspices of Sisi in developing Egypt's road and transport sector.
He noted that the international jury committee referred to several road projects in Egypt that are contributing to creating job opportunities, improving standard of life for citizens and supporting the movement of people and goods.
Badawy presented the contribution of these achievements towards supporting the growth of the Egyptian economy and emphasized Egypt's interest, as a founding member of the African Union, in developing infrastructure in Africa by supporting African initiatives to promote integration and integration within the African continent, such as the Cairo-Cape Town axis.
Salawou on his end praised many of the mega-projects Egypt has implemented in the past few years and its strong cooperation with the African Development Bank. He stressed that Egypt is a key partner with the bank and one of the largest shareholders in its capital.
Egypt's road quality now ranks second in Africa and 28th place globally, rising 90 ranks since previous years when it ranked 118th place, Prime Minister Mostafa Madbouly announced in August during the opening of the fourth phase of the third line of the Cairo metro.
Road projects implemented by the government in the past six years have reduced traffic accidents, he explained, adding that death rates have fallen by 47 percent while accidents in general fell by 36 percent.