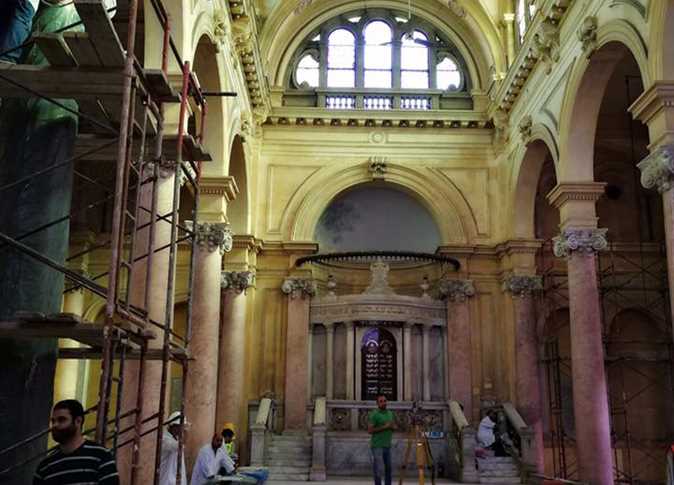 Egypt's Supreme Administrative Court on Saturday upheld a ruling issued by the Administrative Court back in December 2014 suspending annual celebrations dedicated to 19th century Jewish Rabbi Yacoub Abu Hasira in the Beheira governorate.
The Supreme Administrative Court considered the appeal on its first ruling.
The festival, previously scheduled for January 9-10, was held on the annual anniversary of Hasira's death, who was born in Egypt and traveled to Morocco according to Jewish folklore.
Alexandria's Administrative Court issued the case's first ruling to permanently cancel the annual celebrations, as it contravenes public morals and violates the sanctity of religious rituals.
Israel had also submitted a request to UNESCO back in 2014 to transfer the mausoleum to Jerusalem.
The court said that as Jerusalem is an occupied land Israel has no sovereignty to further impose its culture. It also refused to transfer the shrine on the grounds that Islam respects religious laws and therefore rejects exhuming graves.
In its case papers, the court added that Hasira's annual celebration included practices such as alcohol consumption which are contrary to Islamic morals.
The court ruled that the mausoleum is an ordinary grave which holds no archaeological characteristics, and should not be included among Islamic and Coptic antiquities as Hasira was neither Christian or Muslim.
The Ministry of Antiquities had previously issued a decision in 2001 to consider the Abu Hasira mausoleum, the Jewish cemeteries around it, and the hill on which it is built, among Islamic and Coptic monuments.
The court said that this decision was a grave historical error impacting Egyptian heritage.
The upheld ruling also requires the Antiquities Minister to inform the intergovernmental committee of UNESCO's World Heritage Committee to remove this mausoleum from its records of Islamic and Coptic antiquities.
This comes in implementation of international convention protecting cultural and natural heritage, alongside upholding Egypt's sovereignty as this is where the mausoleum is located.
The court's ruling had been met with criticism back in 2014, such as from the head of the Jewish Community in Egypt Magda Haroun.
"The verdict is unconstitutional. The constitution stipulates rights for followers of the three monotheistic religions to perform their religious rituals. As festivals of Al-Sayyeda Nafisa or Al-Sayyed Al-Badawy, Abu Hasira has special standing for the Jews," Haroun told Al-Masry Al-Youm, adding that Abu Hasira is a cleric who had his blessings in Egypt and his tomb should be respected.
"I'm against the way western jews celebrate the festival by dancing and drinking, as this does not conform to our traditions as Egyptians and easterners," she added, but said Egyptian Jews have every right to celebrate.
She also approved rejecting Israel's request demanding the mortal remains be transferred to Jerusalem.
"I totally agree with this decision. He did not have relation to the Zionist state."
Edited translation from Al-Masry Al-Youm