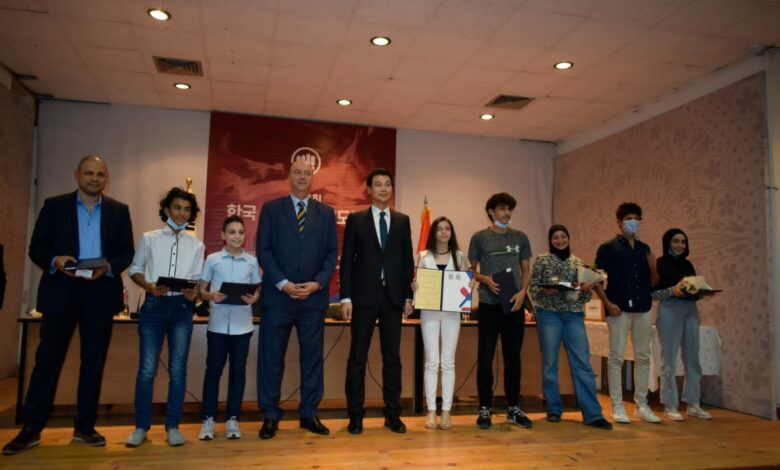 The Korean Cultural Center, in cooperation with the Egyptian Taekwondo Federation on Tuesday organized the closing ceremony of the 14th Korean Ambassador Taekwondo Cup at the Olympic Committee Hall at Cairo International Stadium in Nasr City. on Tuesday.
Korean Ambassador Hong Jin-Wook presented the winners with trophies and certificates for their outstanding performance in the championship, which was organized virtually under COVID-19 precautionary measures
The closing ceremony of the championship was attended by the President of the Egyptian Olympic Committee, Hisham Hattaband and the President of the Egyptian Taekwondo Federation, Amr Salim.
The Korean ambassador expressed his gratitude for the efforts of the Egyptian Taekwondo Federation in spreading taekwondo throughout Egypt.
The victory of Egyptian taekwondo players Saif Eissa and Hedaya Malak winning two bronze medals at the 2020 Tokyo Olympics reflects determined efforts by the federation to support the taekwondo not only in Egypt but also in the Arab countries and the Middle East region.
Around 250 players applied for the tournament.
After evaluating their performance by a referee committee, 32 players have the chance of winning the tournament, including eight players who will be qualified for the semi-finals of World Taekwondo Poomsae Championship scheduled later this year.
The Director of the Korean Cultural Center Oh Sung-ho said that the center organizes the Korean Ambassador's Taekwondo Championship annually to promote taekwondo and motivate Egyptian youth to practice it.
Due to the pandemic the tournament was cancelled last year, with the center running it this year in an effort to resume its activates.
On the sidelines of the ceremony, the Korean ambassador and president of the Egyptian Taekwondo Federation signed a memorandum of understanding aimed at strengthening the Dispatch Taekwondo Master program a way to develop the skills of taekwondo players in Egypt