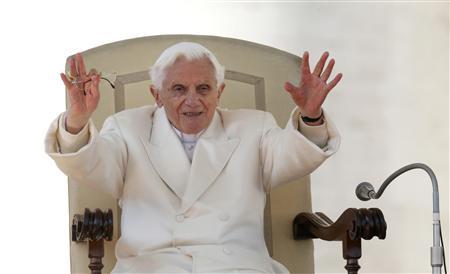 Pope Benedict bid an emotional farewell at his last general audience on Wednesday, saying he understood the gravity of his decision to become the first pontiff to resign in 600 years but that he had done it for the good of the Roman Catholic Church.
Addressing an estimated 150,000 people in Saint Peter's Square the day before he steps down, Benedict said his crisis-hit papacy had included moments of joy but also difficulty when, "It seemed like the Lord was sleeping."

Sitting on an ivory-colored throne on the steps of Saint Peter's Basilica and frequently interrupted by applause from the crowd, the pontiff said: "There were moments when the waters were choppy and there were headwinds."
When he finished his speech the crowd, including many red-hatted cardinals, stood to clap.
Benedict will abdicate on Thursday night and then cardinals begin consultations ahead of a conclave to choose his successor.
He said he had great faith in the future of a troubled Church, adding: "I took this step in the full knowledge of its gravity and rarity but with a profound serenity of spirit."
Loving the Church meant, "having the courage to take difficult and anguished choices, always having in mind the good of the church and not oneself," he said.
The pope says he is too old and weak to continue leading a Church beset by crises over child abuse by priests and a leak of confidential Vatican documents showing corruption and rivalry among Vatican officials.
A huge crowd from Italy and abroad had flowed into the sprawling square in bright sunshine since early morning for the mid-week audience which is normally held indoors but was moved outside to accommodate faithful wanting their last glimpse of the pope.
Many in the crowd, which streamed into the square across the Tiber River and along nearby streets, held up banners thanking the pope and wishing him well. "We are all on your side," one banner said.
Church crisis
Many Catholics were stunned by his decision and concerned about the impact it would have on a Church torn by divisions.
But most of those in the square were supportive and praised Benedict, an increasingly frail figure in the last months of his papacy.
"He did what he had to do in his conscience before God," said Sister Carmela, from a city north of Rome, who came to the capital with her fellow nuns and members of her parish.
"This is a day in which we are called to trust in the Lord, a day of hope," said Sister Carmela. "There is no room for sadness here today. We have to pray, there are many problems in the Church but we have to trust in the Lord."
"He was very humble to do this," said Carla Mantoni, 65, from a parish in Rome.
"I understand why he did this. It was clear from the start that he was more at home in a library. A very good man but he realized in his heart that this was the right thing to do for himself and the Church and now he will pray, he will pray for all of us," she said.
Not everyone agreed.
"He was a disaster. It's good for everyone that he resigned," said Peter McNamara, 61, an Australian of Irish descent who said he had come to the square "to witness history."
The Vatican has said that Benedict, who will move to the papal summer residence south of Rome on Thursday night when the papacy becomes vacant, will assume the title of "pope emeritus" and be addressed as "your holiness."
He will lay aside the red "shoes of the fisherman" that have been part of his papal attire and wear brown loafers given to him by shoemakers during a trip to Leon, Mexico last year. He will wear a "simple white cassock," Lombardi said.
His lead seal and his ring of office, known as the "ring of the fisherman," will be destroyed according to Church rules, just as if he had died.
The Vatican said on Tuesday that the pope was sifting through documents to see which will remain in the Vatican and go into the archives of his papacy and which "are of a personal nature and he will take to his new residence."
Among the documents left for the next pope will be a confidential report by three cardinals into the "Vatileaks" affair last year when Benedict's former butler revealed private papers showing corruption and in-fighting inside the Vatican.
The new pope will inherit a Church marked by Vatileaks and by child abuse scandals involving priests in Europe and the United States, both of which may have weighed on Benedict's decision.
On Thursday, he will greet cardinals in Rome, many of whom have come to take part in the conclave to elect his successor.
That afternoon at 5 pm (1600 GMT) he will fly by helicopter to the papal summer retreat at Castel Gandolfo, a 15-minute journey south of Rome.
There he will make an appearance from the window of the papal villa to greet residents and well-wishers expected to gather in the small square.
That will be Pope Benedict's last public appearance.
At 8 pm the Swiss Guards who stand as sentries at the residence will march off in a sign that the papacy is vacant.
Benedict will move into a convent in the Vatican in April, after it has been restored.
On Friday, cardinals in Rome will begin meetings known as "general congregations" to prepare for the secret conclave that will elect a new pope.
This week Benedict changed Church rules so that cardinals could begin the conclave earlier than the 15 days after the papacy becomes vacant prescribed by the previous law.
The change means that the cardinals, in their pre-conclave meetings, can themselves decide when to start.
The Vatican appears to be aiming to have a new pope elected by mid-March and installed before Palm Sunday on 24 March so he can preside at Holy Week services leading to Easter.
Cardinals have begun informal consultations by phone and email in the past two weeks since Benedict said he was quitting.