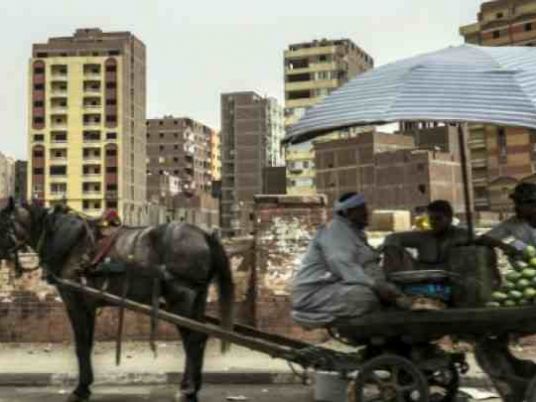 Ahmed and Mohamed are both married with children but still live with their mother, unable to afford one of the hundreds of thousands of homes sitting empty in Egypt's capital.
A construction boom has seen new housing developments mushroom around Cairo but they are out of reach for many, including the two brothers in their 30s.
Instead they share a three-bedroom apartment with their wives, three children, another brother and their mother, for a combined rent of around $10 a month.
Away from their rubbish-strewn neighbourhood with its tenements and narrow alleys, empty and unfinished buildings flank the ring road that circles the vast metropolis.
Outside the city, gated compounds of villas, lush gardens and golf courses in the desert await those with fortunes.
Almost half of Cairo's population of about 20 million lives in informal settlements with poor infrastructure and buildings often constructed with no permits.
At the same time, the government says there are 1.5 million vacant homes across the country.
In 2013, then-housing minister Tarek Wafik, quoted by state-run newspaper Al-Ahram, said 30 percent of the country's housing units were left unused.
According to experts, empty units are either held as an investment by their owner, bought for children for when they get married, or remain empty because they have no water or electricity.
Experts blame the authorities for allowing housing prices to rise while not creating enough affordable social housing.
"Those projects are not made for us," said Ahmed, a father-of-two who earns about $160 a month working at a slaughter house.
"If you have the means, you can pay and have one. If not, no," he said.
Mohamed's wife Rahma Nafea, who is pregnant and expecting a second child, also dreams of having a home of her own.
"But we just have enough to buy food and cover expenses for the children," the 18-year-old housewife said.
'I lost hope'
A 2007 government decree that removed many restrictions on property purchases by foreigners was followed by a boom in construction of high end real estate.
According to Yahya Shawkat, an urban planner and founder of the 10-Tooba research centre, the government encouraged an increase in housing prices by deregulating the market.
The price of land in Cairo's satellite neighbourhoods, for example, increased fourfold between 2007 and 2013, according to Shawkat.
In a country where 26 percent of the population lives below the poverty line, social housing has become a pressing need, but it is often beyond the means of those who most need it.
"There is a high demand for social housing, but the homes that are available are luxury ones," said Manal al-Tibi, the director of the Egyptian Centre for Housing Rights.
In 2011, after a popular revolt that overthrew veteran president Hosni Mubarak, the government announced it would build one million affordable homes over five years.
The project floundered during the years of political instability that followed Mubarak's ouster, with only 70,000 houses completed, deputy housing minister Khaled Abbas said.
Measures have been taken to ensure the homes go to people who deserve them, he added.
"Not just anyone can come and take a unit," Abbas said. "There is an income ceiling."
The government budget for this fiscal year allots about $1.7 billion for social housing, 19 percent more than last year's budget, according to the government.
The price and conditions to obtain bank loans are beyond the means of many.
Galal, an electrician, has twice broken off engagements because he could not find an apartment, often a condition imposed by a fiance's parents.
He lives with his parents and shares a room with his brother.
"Honestly, I've lost hope," the 24-year-old said.