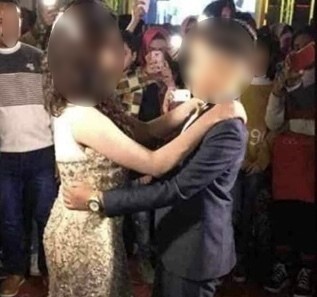 The mother of a 15-year-old boy, now officially engaged to a 14-year-old girl, defended her son's choice on Sunday evening, arguing that he has a mature mind that exceeds his age.
The families of the two children carried out an engagement ceremony, his mother Sahar told DMC channel, in order to affirm that the young bride would be his future wife.
Sahar argued that her son's social circle was of adults, and that he demonstrated responsibility since childhood. She added that those around him tended to treat him like a man, and not a child.
"If my second son, who is 10 years old, got attached [to a girl] and was really in love, I would carry out his engagement as well."
Social network users circulated a video of the engagement, which took place in a hall in Kafr al-Sheikh Governorate.
"What happened is a continuing social norm," Sabry Othman, General Coordinator of a child helpline affiliated to the National Council for Childhood and Motherhood, commented. "What happened is a continuing social norm, and no matter what measures we take, we cannot stop it."
"The mother's justifications are completely flimsy and illogical," he lamented, noting that children at this stage are not fully aware of their emotions, nor are they emotionally stable or able to bear responsibility.
An official CAPMAS report found that 117,000 children between 10 and 18 in Egypt are (or have been) married, despite a national campaign against the phenomenon.
Upper Egypt accounted for the highest percentage of child marriages and divorces in the report. Outskirt areas such as the Red Sea, Sinai, Marsa Matrouh and Aswan recorded a much lower 1.3 percent.
Such statistics led to a new draft law proposal in June 2018, aiming to criminalize child marriage. The draft law would bring with it a penalty of up to one-year imprisonment for those involved, while also allowing children away from parents who allow them to be married.
The bill also stipulates that the Mazoun (an official who performs the marriage) must notify the General Prosecution if a child marriage is occurring – failure to do so would be met with job suspension, and one-year imprisonment.
Finally, it states that any marriage contract to a person under 18 would not be authenticated, and the contract could not be ratified without approval from the family court.