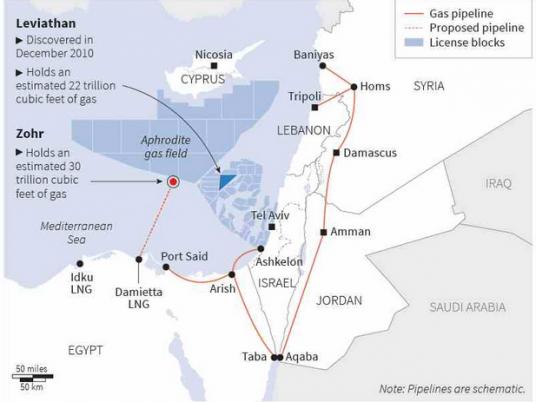 The Italian oil services company Saipem has been awarded the contract for the accelerated start-up of Egypt's "super-giant" Zohr gas field, with a view to pumping the first gas ashore before the end of 2017.
Saipem, which is owned by Italian oil firm Eni, announced on Thursday that it had won the engineering, procurement, construction and installation (EPCI) contract for Zohr, which was discovered by Eni last year and described as the largest gas field in the Mediterranean.
In a press release on Thursday, the company's CEO Stefano CAo said, "We are very pleased to have been selected for the important objective of delivering first gas from Zohr before the end of 2017."
To complete the contract in good time, Saipem said it will mobilize its fleet of vessels for pipe-laying operations, linking the offshore rigs to stations on shore. The contract will also involve the development and operation of six deep-water wells and the installation of the umbillical system.
The Zohr gas field was discovered by Eni in August 2015, using the drillship Saipem 10000, which is still operating in the area. Eni was granted the development lease in early 2016, with production due to start in 2017. The company aims to produce 500,000 barrels of oil equivalent per day by 2019.
The Zohr discovery in 2015 was a relief to the Egyptian government, which had been facing a major energy crisis that resulted in power blackouts. Eni further assisted Egypt's search for reliable energy sources last month with another offshore discovery, this time in the Nile Delta.
The continued involvement of Eni in bringing the Zohr discovery to fruition has been of major concern to Egypt, bearing in mind ongoing diplomatic tensions between Egypt and Italy over the death of an Italian student in Cairo in February.
However, despite pressure from Italy and the European Parliament, Eni has continued with its plans to exploit Zohr and provide Egypt with much-needed gas.