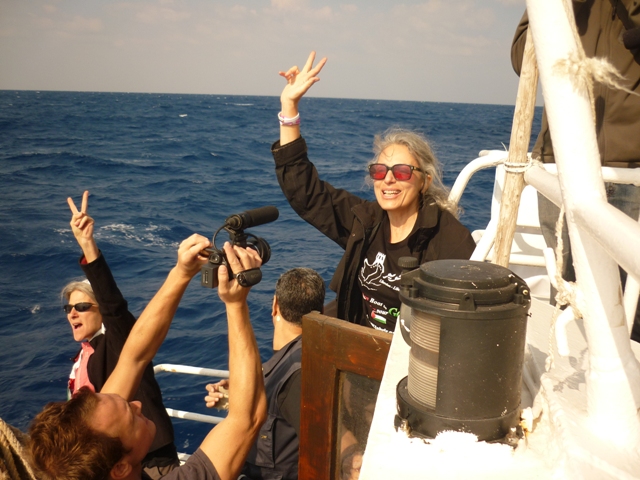 INTERNATIONAL WATERS, Eastern Mediterranean – The 12 passengers aboard the Tahrir, a Canadian boat attempting to bring medical aid and a message of solidarity to the besieged Gaza Strip along with another ship, are frantically preparing for their next steps.
Journalists are busy filing stories. Activists are updating the world about developments. Others maintain the boat's housekeeping, cooking and cleaning for everyone on board.
The boat reached international waters on Tuesday afternoon, a moment celebrated by all 12 passengers with a unified yell of joy. Since 2010, Gaza-bound boats have been attempting to break Israel's naval blockade of the Palestinian territory. That year, a Turkish ship was attacked by Israeli commandos, who killed nine activists on board.
Reaching international waters became an achievement in itself, in particular because the 2011 Freedom Flotilla was prevented from sailing from Greek ports in July.
Organizers of the flotilla, called "Freedom Waves," told Turkish authorities that the Tahrir was bound for the Greek island of Rhodes so it could depart without state intervention. When the boat reached international waters, organizers ended their media blackout and told the world they are headed for Gaza.
"We took off from Turkey in complete silence so we didn't face any problems or intervention from the Turkish government," said Ehab Lotayef, an Egyptian resident of Canada and one of the main organizers of the Canadian boat. "We are a civil society activity," he added, reiterating organizers' statements that they do not want to engage with states.
"It is important to take this boat and do what we promised. We promised the people of Gaza to sail. We are calling the attention of the world to the situation in Gaza. We are looking for justice, ordinary people to be able to live in peace and justice without fear," said Karen Devito, a Canadian activist on board the ship who has taken on the task of cooking for the 12-person delegation.
"If our governments don't recognize that there are people who want to live in peace, we do. And that's why we took this risk to reach out to them," Devito added.
For Majd Kayyal, a Palestinian from Haifa, a city in what is now northern Israel, joining the boat was an attempt to work for the cause by making sacrifices and taking risks.
"Writing is not enough," said Kayyal, who took turns steering with the boat's captain. When asked about other forms of activism he engages in back home, Kayyal said, "Resistance is not a job. It's a way of life."
Before getting on board, Kayyal laughed at how he left his home in Haifa to try to enter home again, through Gaza. "The problem is not that of Gaza or the West Bank alone. The problem lies in the division of Palestine since 1948," he said.
There are no guarantees that the boat will be allowed to dock in Gaza. The Israeli newspaper Haaretz reported on Tuesday that the Israeli Navy is tracking the flotilla's progress and intends to intercept it before it is able to reach the shores of the besieged Palestinian territory.
Regardless, Kayyal and fellow activists see value in the trip.
"By sailing toward Gaza, I can say that we have already achieved some of our goals," said Lotayef. "Why are we sailing? To draw the world's attention to the Gaza siege and to tell Israel that we will never let you be comfortable about this siege."
Lotayef is sailing for the first time, although he has helped organize other Gaza-bound activist boats. The 52-year-old spends his time making sure the boat is connected to the outside world.
An Irish boat called Saoirse, meaning "freedom," is also part of the Freedom Waves campaign and is carrying 15 passengers. On Thursday, Tahrir's passengers caught site of the Saoirse in the distance. As the two ships drew closer, passengers on both chanted for Gaza's freedom.