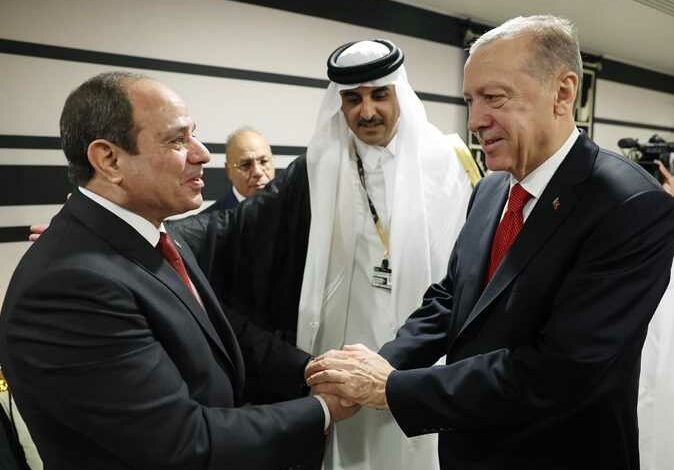 Turkish President Recep Tayyip Erdogan commented on his meeting with Egyptian President Abdel Fattah al-Sisi and his handshake in Doha on the sidelines of the opening of the World Cup 2022 in Qatar.
In his speech, the Turkish president said: "We said previously that a path can be started, and this was a step that was taken in order to start this path."
"The ties that existed in the past between the Turkish and Egyptian peoples are very important to us. What prevents restoring it? We have given indications in this regard," Erdogan said, according to Anadolu news agency.
"I hope the stage that started between our ministers will develop later to a good point through high-level talks."
Restoring worn ties
Turkey's ties with Cairo have been poor since the military overthrew Egypt's first democratically elected president, Mohamed Morsi of the Muslim Brotherhood. Erdogan, whose ruling AK Party is rooted in political Islam, had been a strong supporter of Morsi.
Turkey has taken rapprochement steps with Egypt in 2021, as the two parties have held rounds of exploratory talks in Ankara and Cairo, which did not lead to a full normalization of relations.
Turkish Foreign Minister Mevlüt Çavuşoğlu said earlier this year that the talks with the UAE "have made more progress than with Egypt, and that the mutual visits were successful."