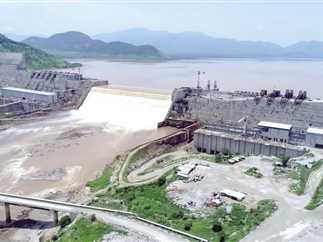 Ethiopian Water, Irrigation, and Energy Minister, Sileshi Bekele, reiterated that the second round of filling the Grand Ethiopian Renaissance Dam (GERD) will go "as per the schedule."
Following the Meeting of Eastern Nile Council of Ministers in Addis Ababa on Tuesday, Bekele said that nothing will change in regards to the filling of the dam, as it goes along with planned construction for the coming rainy season.
"The second round filling will continue and it has nothing do with any other issue. The construction progress of the dam in the coming rainy season will dictate the filling," the Ethiopian News Agency quoted Bekele as saying.
He further noted that "this is very clear to all the three riparian countries. Nothing will change and we will proceed accordingly."
For his part, Sudan Water Resources and Irrigation Minister, Yasir Abbas Mohammed said that Sudan has always supported GERD because it is the right of Ethiopia to make use of water.
Abbas said that this has been the position of Sudan for the last 10 years. "We supported Ethiopia to generate hydropower., but at the same time asked them to to consider the downstream countries," the minister further elaborated.
South Sudan Water and Irrigation Minister, Manawa Peter Gatkuoth pointed out that an African solution for African problem is the right procedure in finding a lasting agreement around the dam.
"We are calling on Sudan, Egypt, and Ethiopia to solve the problem based on this procedure," he said, further adding that regional stability  is of the utmost importance.
During a meeting for the Arab League Council on Tuesday in Doha, the league called on its Security Council to meet on GERD.
The Arab foreign ministers affirmed that "the water security of Sudan and Egypt is an integral part of the Arab national security," and expressed their rejection of "any action or measure that prejudices their rights in the Nile waters."
The ministers called on Ethiopia to refrain from taking any unilateral measures that might harm the water interests of Egypt and Sudan, including refraining from filling the reservoir of the dam before reaching an agreement.
Ethiopia rejects the Council of the Arab League's resolution on GERD entirely, the country's Ministry of Foreign Affairs said in a statement.
"The Arab League has already squandered its opportunity to play a constructive role," the statement said, adding that "it should be abundantly clear that futile attempts like this to internationalize and politicize the GERD will not lead to sustainable regional cooperation in the utilization and management of the Nile."
Edited translation from Al-Masry Al-Youm