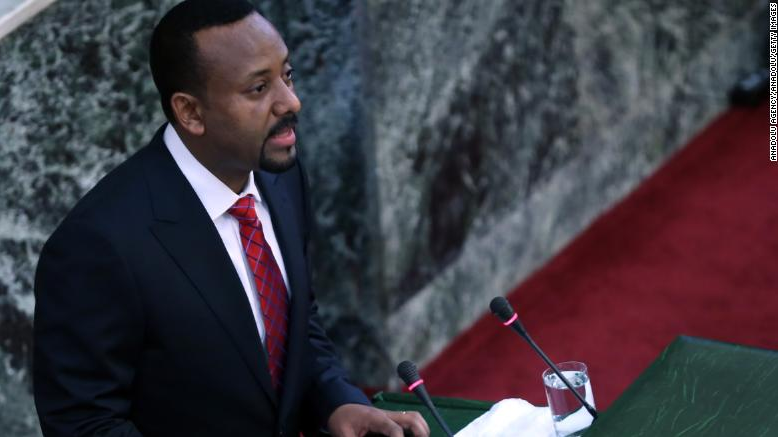 Ethiopia's new Prime Minister Abiye Ahmed was sworn in on Monday by parliament after MPs unanimously approved his appointment and authorized him to carry out democratic reforms aimed at defusing ethnic tensions in the Oromia region from where he descends.
Ahmed, 42, said in his inaugural speech that the Ethiopian Renaissance Dam project is uniting the Ethiopian people and called for benefiting from the "unitary spirit" that this project has created to achieve economic growth in the country.
"This is a historic moment during which we start a new chapter in the history of our country, which is witnessing a peaceful transition to power. Our situation today involves opportunities and threats. We live a confusing period," he said.
Ahmed said that Ethiopia was passing through an important moment and that it must learn from the mistakes of the past.
"We understand that there are a lot of problems that must be resolved urgently," he said, referring to his desire to end the dispute with Eritrea.
He said he was ready to sit down with the Eritrean government to end the dispute through dialogue and called on the Eritrean government to express the same desire.
Ahmed promised to work for comprehensive development and to fight corruption and expand the democratic environment, in cooperation with women and youth as the main force for the country's growth.
Ahmed has become Ethiopia's third prime minister since the ruling Revolutionary Democratic Front (RUF) came to power.
His appointment represents an important step in the hope of resolving recent unrest that erupted in the regions of Oromia and Amhara, leading to the declaration of a state of emergency since February 16.
A state of emergency was declared in the country after hundreds of protesters were killed during confrontations with authorities and tens of thousands others were jailed.
In an attempt to calm the situation Ethiopia released more than 6,000 prisoners since January, including journalists and opposition leader.
Ahmed was elected head of the RUF and prime minister on March 27, replacing outgoing Prime Minister Hailemariam Desalegn.
Ahmed was born to a Muslim father and a Christian mother. He has a military and intelligence background as he was a former colonel with the Ethiopian army.
Edited translation from Al-Masry Al-Youm