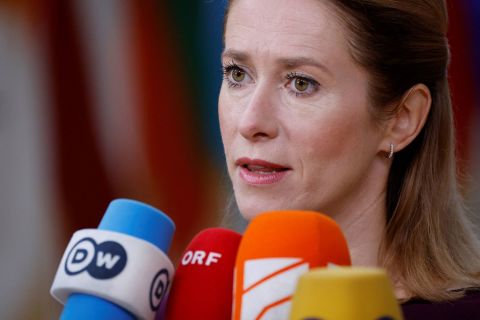 The European Union should use over €300bn ($292bn) of frozen Russian foreign assets to help Ukraine, Estonian Prime Minister Kaja Kallas said on Friday.
"Today we're going to focus on Ukraine. First of all, we have to talk about the use of [frozen] assets that we have – Russian [frozen] assets. We have over €300bn ($292bn) of [frozen] assets and how we can use them in benefit of Ukraine," Kallas told reporters in Brussels, where she is attending a meeting of the Council of the European Union.
In a tweet, Kallas said it was "time [the EU] move ahead with making the aggressor pay."
"Second, we definitely have to discuss the legal response to the crimes of aggression that have been committed and how to make a separate tribunal to prosecute those," Kallas also told reporters.
Dam mining "pure terrorism": Kallas called the alleged mining of a critical dam on the Dnipro river in Ukraine's southern Kherson region – which Ukrainian President Volodymyr Zelensky mentioned to the Council on a video address on Thursday – "pure terrorism."
"If you look at the definition of terrorism, this is what it is. It is to make us afraid, it is to make us refrain from the decisions that we would otherwise make and this is awful that it is possible to do this in 2022," Kallas said.
Zelensky claimed that Russia was creating grounds for a large-scale catastrophe in the south of Ukraine, with Russian forces mining a critical dam on the Dnipro river in the southern Kherson region, as well as the adjacent hydroelectric plant.
"If Russian terrorists blow up this dam, more than 80 settlements, including Kherson, will be in the zone of rapid flooding. Hundreds of thousands of people may suffer. Water supply to a large part of southern Ukraine could be destroyed. This Russian terrorist attack could leave Zaporizhzhia nuclear power plant without water for cooling – water for ZNPP is taken from the Kakhovka reservoir," Zelensky said.