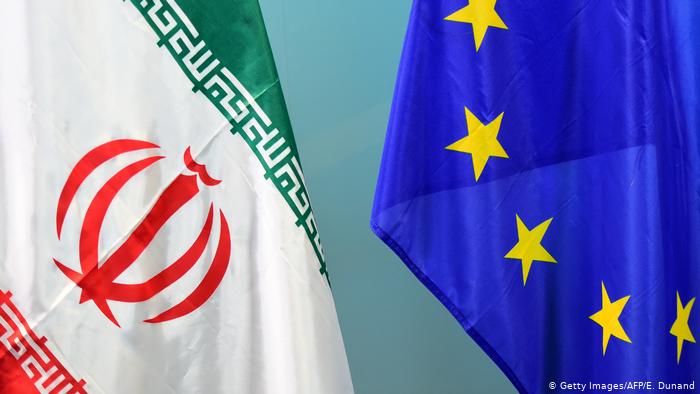 The European Union on Thursday reiterated its commitment to the 2015 Iran nuclear deal but insisted it would not accept any ultimatums.
Iran had announced a partial withdrawal from some "voluntary" aspects of the pact, saying that the country would no longer adhere to some of the limits on its nuclear activities.
The statement in brief
In a joint statement, the EU's foreign policy chief Federica Mogherini and the foreign ministers of Britain, France and Germany said:
-We remain fully committed to the preservation and full implementation of the JCPoA (Joint Comprehensive Plan of Action).
-We reject any ultimatums and we will assess Iran's compliance on the basis of Iran's performance regarding its nuclear-related commitments.
-We also look to Iran to continue to adhere to established JCPoA formats and mechanisms.
-We regret the sanctions imposed by the United States and are committed to lifting sanctions in Iran.
Iran wants to bring deal 'back on track'
Shortly after the EU released its statement, the spokesman for the Atomic Energy Organization of Iran said the country is hoping to fix the deal with world powers.
"Our goal is to strengthen the JCPOA and bring it back on track," spokesman Behrouz Kamalvandi was quoted as saying by IRNA.
Tensions between US and Iran
On Wednesday, Iran said it would start resuming high level uranium enrichment after 60 days if the countries that signed onto the nuclear deal failed to protect Iran's oil and banking sectors from sanctions. The government also said it would stop curbing its stocks of enriched uranium and "heavy water" that are used by some reactors for nuclear fission.
The United States accused Tehran of resorting to "blackmail." Russia said that Iran was provoked,especially over the US re-implementing sanctions. The US also announced this week that it dispatched an aircraft carrier strike group to the Middle East to send a "clear and unmistakable" message to Iran.
Read more: Iran nuclear-deal crisis — Is war with the US ahead?
What are Iran's commitments under the deal? The restrictions in place under the nuclear deal are aimed at curbing Iran's capacity to make a nuclear bomb. These include: capping the stock and levels of purity to which Iran can enrich uranium; implementing constraints at two enrichments centers; restricting the use of centrifuges and reducing the ability to produce plutonium.
What's happened since the US left the deal? One year ago, US President Donald Trump pulled the United States out of the 2015 Iran nuclear deal, which saw sanctions lifted in exchange for Tehran limiting its nuclear operations. In recent months, Washington has ramped up sanctions against the country, which have hit the Iranian economy hard. The US also designated the Iranian Revolutionary Guard Corps as a terrorist group.
rs/rt (AP, AFP, Reuters)