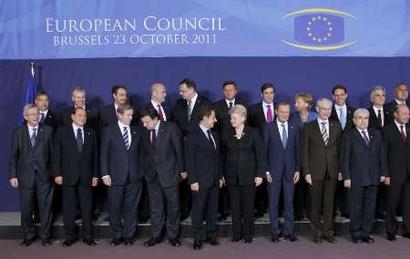 As the country struggles to get back on its economic feet, Egypt's neighbors across the Mediterranean may be on the precipice of a major financial catastrophe that could severely weaken all of the eurozone and reverberate across the world.
With most attention in Egypt devoted to the post-uprising transition, the crisis in the eurozone has received little local attention. But some experts warn that any further weakening in Europe could severely decelerate Egypt's own economic recovery.
The European Union is Egypt's main trading partner, a destination for 32 percent of the country's exports, according to Heliodoro Temprano, a European Commission representative who was in Cairo in February for a conference at the Egyptian Center for Economic Studies on how Egypt might be affected by Europe's debt crises.
"Egypt is rather exposed to economic and financial developments in the euro area/EU," Temprano said.
In 2008, Egypt fared well throughout the international financial crisis that set back the US and European economies. It stayed afloat, experts say, because Egypt's government had a cushion of extra cash to spend. Some also said Egypt's large informal local economy, in which the multinational banks do not operate and cash rules in transactions, helped insulate the country from the downturn.
But that might not suffice this time. Economists are saying the Egyptian government should prepare for the possibility of a collapse in Europe.
"Developing countries should pre-finance budget deficits, prioritize spending on social safety nets and infrastructure, and stress-test domestic banks," said Hans Timmer, director of development prospects at the World Bank.
With the military still in power, a parliament that has yet to prove it is effective, and a large budget deficit, Egypt does not look equipped to launch such measures.
"Failure to achieve stability on both sides of the Mediterranean could threaten the prospect of recovery on the other end," said Magda Kandil, executive director of the Egyptian Center for Economic Studies.
Egypt's interim leaders have not governed with great economic acumen during the transition, according to Kandil.
"It has proven difficult to focus attention on economic priorities to press ahead with the right policies," she said.
In January, a report by the World Bank also said that developing countries, such as Egypt, were more likely to feel the effects of the crisis in Europe than the 2008 crisis, which began in the US.
The report said gross capital flows, a measurement of investments and material additions to a country's economy, to developing countries was down to US$170 billion in the second half of 2011, compared with $309 billion received during the same period in 2010.
Developing countries like Egypt, by and large, also have fewer remedial measures at their disposal due to spending during the 2008 crisis and unrest since, the report said.
According to Kandil, a solution could be found in "gradual integration" of the European markets with those in Egypt and the Middle East, recently emerging from political uprisings spurred, in part, by economic inequality.
This integration, she said, would allow sectors of the two economies to trade and cooperate more freely, allowing Europe to export more, and make use of abundant labor in Egypt.
Over the weekend, private bondholders agreed to a loss on Greek debt to help facilitate a restructuring. EU bailout funds are expected to help offer Athens another bailout soon, following the previous one in February.
European economies look to be on the edge of a further slide. Spain faces an unemployment rate of nearly 23 percent, with periodic large-scale youth protests. Italy announced in the past week that over 9 percent of its population was jobless in the month of January. Eurozone-wide unemployment, also as of January, is 10.4 percent.
And as unemployment and the economic slowdown grow more dire, experts say the eurozone crises could significantly affect Egypt, already in political and economic turmoil since the uprising last year that deposed former President Hosni Mubarak.
Greece's troubles could come calling in Egypt, drying up European investment, tourism and markets for the country's exports.
In the global economy, prosperity and downturns spread easily.
European tourists have traditionally packed the tour buses, hotels and archaeological sites in Egypt, supporting fleets of tourism workers. They provide perhaps the most direct foreign injection of cash into cities outside the capital, such as Luxor and Sharm el-Sheikh. Tourism revenues make up 4 percent of the gross domestic product.
But as European citizens lose jobs and cut back on spending, they are less likely to travel to Egypt's resorts and archaeological sites.
Not to mention that Egypt is still coping with the economic motivations behind the country's uprising last year, that of growing frustration about social injustice, high unemployment among the youth, rising costs of living, and no trickle down of wealth from the growing economy, Kandil said.
There are not only bleak forecasts for Egypt, though.
Some think that the problems in the global economic centers of Europe and the US might encourage investors to look to Egypt for a new market, despite the challenges posed by the euro crisis and political transformations.
A report by the Kuwait-based consulting firm Agility on emerging markets found that two countries from the Arab Spring, Egypt and Libya, made it into the top 20 major logistics markets for the future. Libya placed 17th, Egypt 16th. Logistics refers to the management of the flow of economic goods through transportation, freight and purchase of oil and gas.
"It seems that many consider these nations 'open for business' as regards logistics services," the report said.
But it's not clear that any measures or amount of optimism will be able to stave off a worldwide crisis if the situation in Europe worsens.
"An escalation of the crisis would spare no one," said Andrew Burns, manager of global macroeconomics and lead author of the World Bank report. "Developed- and developing-country growth rates could fall by as much or more than in 2008/09. The importance of contingency planning cannot be stressed enough."