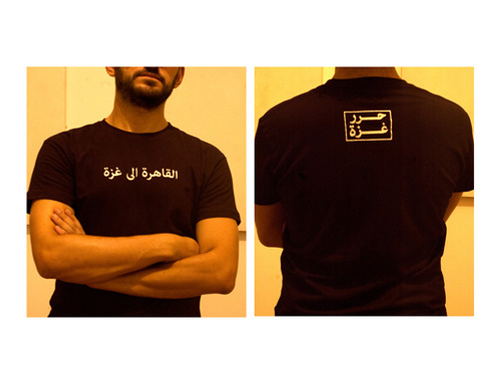 A number of activists and their friends spent Monday evening at the Rooftop Studios in downtown Cairo finding out about "Everywhere to Gaza." They were buying T-shirts on sale with "From Cairo to Gaza" written on them in Arabic, and on the back "Free Gaza."
"Make a shirt, wear a shirt, send a picture," the website reads.
The idea is to inspire people across the world to make and wear T-shirts with the same message, tailored to their city, town or village, and written in their language. People are then encouraged to take photos and send them to be uploaded on the website, bringing in as many different places and languages as possible.
American graduate student Elisabeth Jacquette speculated that perhaps the idea came from the flotilla convoys to Gaza. They sought not only to bring goods to blockaded Gaza, but to call attention to the siege by publicly and peacefully breaking it.
Hady Kamar, an Egyptian-American artist who grew up in New Jersey, says the idea came to him when he saw a banner at Occupy New York on which "New York to Gaza" was written.
"I found it arresting and impactful," says the founder, "and thought why not everywhere to Gaza?"
Yasmine, an Egyptian-American artist living in Cairo, clutching a T-shirt that she had just bought under her arm, says that what she finds particularly appealing about the project, apart from its cause and message, is its "participatory and viral aspect."
She is curious, she says, to see "how people respond to the call to create their own versions of the T-shirt with their own hands and in their own languages, and how the project will evolve based on their contribution."
With people wearing these T-shirts, hopefully there will be conversations about Palestine in the streets, cafes, and buses in cities and towns across the world. That's the vision anyway. But for now Kamar is focused on Cairo.
"I want to start small and manageable, and then have it grow," he says. He will be talking about the initiative to different activists when he travels to Europe, and of course employ social media to promote the initiative.
On the website, Kamar has provided detailed step-by-step instructions so that others can do something similar wherever they are, without his assistance.
Part of these instructions refers to ethical sourcing. Describing how he got the "Cairo to Gaza" T-shirts made by a tailor in Shubra, he points to the relevant part on the website, where he has written, "You don't want to run into that conversation where you are defending the rights of one person and then someone calls you out on a sweatshop shirt. It always happens. It'll be embarrassing."
Muhammad Shahin, who is translating the website, suggests that others may like the idea, but not be as proactive as Kamar, who built his own press. Kamar's instructions on the website provide not only tutorials to screen printing t-shirts, but also suggest to people where they may buy a press or find a screen printing shop.
The plan is that the "Everywhere to Gaza" project will soon be producing stickers — less labor-intensive than building a press — like the "No to Military Trials" yellow stickers which became iconic during the revolution, with activists and sympathizers sporting them on their notebooks, computers and phones.
The T-shirt, once an item of underwear, when it was first worn as an outer-layer of clothing was seen as a sign of rebellion. In the 1960s, in the western world, the T-shirt became a means to express an identity associated with counter-culture. Soon enough, however, they were a staple item of mainstream fashion, even becoming designer brand items.
"People pay a lot of money for T-shirts that just advertise companies, like FCUK," Kamar says, pointing to one of the most successful T-shirt branding examples in corporate fashion. "So why not actually say something meaningful?"
But these aren't meant to be another of those baggy political T-shirts that people wear to convey a message. You can be political and look nice, seems to be the idea, and the white on black T-shirts are simple and tailored differently for men and women.
An incomplete sentence
Whether earnest or tongue-in-cheek, political slogans are too often clear and unambiguous, but what Shahin particularly likes about these T-shirts, is that "it's not even a sentence — from Cairo to Gaza — a phrase, it's incomplete." Perhaps that ambiguity will attract interest or questioning, making the T-shirt "the conversation-starter" Kamar intends it to be.
Political messaging on badges and T-shirts has a history dating back in the Western world at least 50 years, and many museums and galleries collect these items as social documents of history. They are not meaningful simply in and of themselves, but because they were part of something broader, from social trends to political movements.
And indeed, neither Kamar nor those buying the T-shirts are under any illusion that simply wearing a T-shirt, or even using it as a tool to raise awareness is enough — the T-shirt itself is an incomplete sentence.
Kamar hopes the conversations people have won't simply be about Palestine in a broad sense, or simply emotional and impassioned, but also be concrete and practical. He hopes there will be conversations about Boycott, Divestment and Sanctions (BDS), and in this way, though at this point a small initiative, it ties into solidarity activism globally.
Shahin also suggests using the T-shirts in different ways, for instance at a silent demonstration in front of the Arab League headquarters, where all the protesters would wear a "Cairo to Gaza" T-shirt.
From Cairo to Gaza
A number of those buying the T-shirts pointed to the role that Egypt plays in relation to Gaza as the only other country bordering it apart from Israel. Israel cannot sustain its blockade of Gaza without Egypt's cooperation and this is precisely what Hosni Mubarak offered, they say.
"Egypt and the Egyptian people have an important role to play," Shahin says. "Since the revolution, there was all this talk about opening up the crossing to Gaza, but there's hardly been any change."
He says there is little political awareness in Egypt and attributes this in large part to the government and the media. "As usual," he says, "when the killing of the Egyptian soldiers on the border happened in Sinai, Palestinians were blamed without a shred of evidence. And even if in the end they decide it was someone else responsible, "that is what people would remember."
Bilal, a graphic designer, who says a three-day trip to Gaza changed his life, also pointed to the role of the media in creating a lack of awareness in Egypt.
"You'll find people swearing they saw members of Hamas in Tahrir Square during the revolution," he says. "It's unbelievable."
There are both local and international aspects to the the "Everywhere to Gaza" initiative. The idea is not, Kamar says, "to have Cairo, London, New York, Paris to Gaza, but the little places people are from, the places maybe hardly anyone has heard of."
And the more local it gets in this way, "the more Palestine has a broader resonance."